Products We Love: Anti-Fatigue Eye Mask Kit
Published: Friday, December 16th 2011
in Beauty
---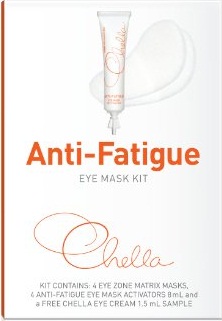 The holiday season has most of us in a frenzy shopping for the perfect gifts, baking cookies and special treats and staying up at late-night holiday parties. The proof of all of this tends to show up as dark circles and unfriendly pillows under our eyes. I have tried so many different products to battle the bags and while some are better than others, I hadn't found something that really packed a punch until I tried the Anti-Fatigue Eye Mask Kit from Chella.
I decided to try the eye mask out after a particularly late night and on some particularly bad circles. The kit claims that the "collagen-matrix equals a good nights worth of pseudo-sleep" and to my glee, it did! The masks come in easy, one-use trays. You simply peel back the foil, leave the pads in the tray and then soak them with the entire contents of the Anti-Fatigue Eye Mask Activator. Once they are fully saturated you simply apply each as a "second-skin" under the eye area and leave on for 15-20 minutes. They were not kidding when they called the product a second-skin, it looked more like special effect makeup than a typical eye mask! While I was waiting, I felt an incredible cooling effect and slight tingles; tingles, to me, mean the product is working – I rarely like anything that doesn't make my skin tingle as it works.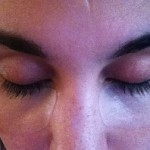 After 15 minutes, I removed the masks and rubbed the remainder of the serum into my skin. I then followed up with the provided Chella Eye Cream and I was pretty blown away with the results. I am a girl that needs under eye concealer and for the first time since high school – I went out without it. The package claims that using once a week for four weeks will yield optimal results so I can't wait to see what else it can offer since I loved the look after one use! There is an anti-irritant and hydrating effect and I could feel and see my new, less-tired and younger-seeming eyes looking back at me in the mirror.
The Four-Pack includes four Eye Zone Matrix Masks, four Anti-Fatigue Mask Activators and one sample of Chella Eye Cream –Anti-Fatigue Eye Mask Kit, $45