Products We Love: June Jacobs Perfect Pumpkin Peeling Enzyme Masque
---
The moment we opened up this delicious jar of pumpkin goodness, we knew fall had officially arrived.
Pumpkin beauty products and spa treatments are all the rage once summer ends and fall begins, not only because they smell and feel great, but because pumpkin's powerful and nutrient-rich properties can make for an effective way to nourish your skin. Naturally rich in essential fatty acids, vitamins A and C, as well as zinc – a mineral that aids in the healing process, pumpkin offers a combination of nutrients that work synergistically to rebuild the elasticity of the skin.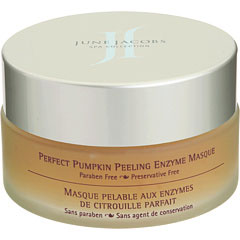 Paraben- and preservative-free, this spicy and detoxifying, yet intoxicating, masque contains a powerful pumpkin enzyme to digest dead surface cells, stimulating cellular turnover and improving skin's tone and texture.
An anti-oxidant blend of white, red, and green tea extracts combined with goji berry, pomegranate, and grapeseed extracts help to neutralize free radicals, protect skin from environmental toxins and combat the signs of premature aging.
Directions suggest leaving the masque on for 3-10 minutes depending on skin sensitivity. We erred on the safe side with our sensitive skin and left this tingly masque on for about three minutes before washing it off. Result: fresh, soft skin that can't wait to get another taste in a couple of days.
How much do you love pumpkin products and treatments? Tell us about your favorites.
Retail Price: $78 for 4.1 oz; Get it here.