Products We Love: Le Mieux Bio Cell Rejuvenating Cream
---
Le Mieux, one of the first skin biotechnology research and development companies to introduce and integrate Epidmeral Growth Factor (EGF), has a plethora of products catering to various skin types and conditions. We tried out the Bio Cell Rejuvenating Cream, which acts as both a day and night anti-aging cream, and noticed results in about two to three weeks. Perfect for fall and winter as the climate gets colder and drier, this cream quenches thirsty skin, aids in water retention and firms skin by increasing collagen production – talk about a miracle product!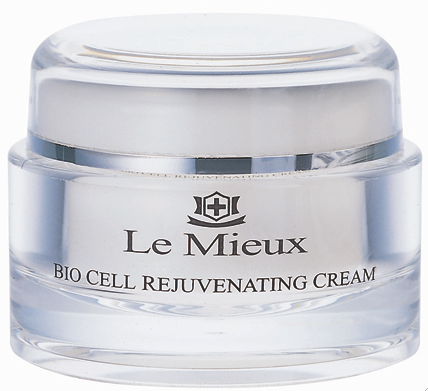 "The new Bio Cell Rejuvenating Cream is a super cocktail of anti-aging ingredients," explained Janel Luu, CEO of Le Mieux, when the product was first introduced in June of this year. "Deeply hydrating, it replaces moisture loss during the day and at night, slows down and even reverses the aging process. The multi peptides help to stimulate collagen production and improve skin tone, while the natural oils and African shea butter help deeply moisturize skin."
Check out the ingredients and what each does – while some may sound a little scientific or foreign, they all serve a purpose in helping achieve that beautiful healthy skin we all strive for.
Acetyl hexapeptide-8: Improves cell adhesion, reducing the loss of skin firmness, dryness and yellowing of skin tone, while improving elasticity, and increasing dermis density and cell proliferation, which results in greater skin smoothness.
Palmitoyl tripeptide-5: An amino peptide that mimics the body's mechanism to produce collagen, which is needed to promote youthful looking skin.
Palmitoyol pentapeptide-4: A synthetic protein which reduces wrinkle depth by increasing hyaluronic acid and collagen production.
Hyaluronic acid: Plumps up skin cells and helps skin retain moisture.
Ceramide I and Ceramide III: A powerful anti-aging ingredient that replaces lost moisture and helps prevent water loss and dryness.
Squalane: An antioxidant that protects moisture levels and maintains elasticity.
Saccharomyces lysate extract: A live yeast cell derivative.
Beta glucan: Increases moisture retention, helps repair wounds, revitalizes and calms irritated skin, while helping improve the skin's immune system and protecting it from environmental damage.
Jojoba oil: Rich in fatty acids that moisturize while helping to protect the skin's moisture levels.
African shea butter: An emollient that helps maintain skin softness, smoothness and elasticity
Tocotrienol: The most potent form of vitamin E, containing powerful anti-oxidant properties that help reverse damage caused by stress and UVA/UVB rays.
Luu recommends applying the Bio Cell Rejuvenating Cream twice a day following cleansing and toning. It can also be used on the neck and décolleté areas.
Bio Cell Rejuvenating Cream 1.75-ounces, $45. Call 888-327-8188 to purchase and to find out about other products by Le Mieux, go to www.LeMieuxCosmetics.com (not available for purchase online).
Other products to check out:
Spa Sonic® Skin Care System Face & Body Polisher
Beauty for a Cause: Breast Cancer Awareness Products 2011
Park Avenue Prescription
Sprayology Life Detoxer