Products We Love: Malibu C's Vegan Color Wellness Kit
Published: Friday, November 4th 2011
in Beauty
---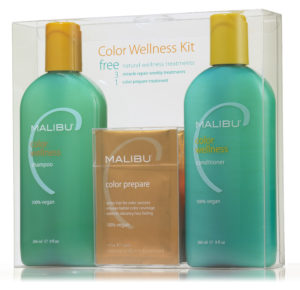 My first journalism job consisted of writing about the chemicals found in beauty products — and I discovered an eye-opening experience. Researching and writing about a topic like this teaches you to be conscious about not only what you're putting into your body but onto it as well. It was definitely enlightening (even though it did drive my sister crazy when I would spend 20 minutes reading a cosmetics label at the drugstore.)
That's why I'm loving the Malibu C® Color Wellness Kit. This kit is free of gluten, sulfates, parabens, propylene glycol and DEA and instead uses 100% vegan ingredients and a patented, natural Vitamin C complex technology to purify and revitalize. It's at-home hair maintenance 101, with four products – Color Wellness Shampoo, Color Wellness Conditioner, Color Prepare and Miracle Repair – so hair color is preserved longer and is stronger between trips to the salon. And for those of us with dry (okay, lackluster and dull) locks, we know that some hair products don't cut it — enter this color wellness kit, which I now swear by.
Though the conditioner didn't detangle my tresses as much as I'd have liked, the combination of the products, including the powerful Vitamin B and E-packed Miracle Repair, my personal favorite, made my blonde hair more vibrant (and the bright teal and orange packaging adds a bright touch to my bathroom as well!) And when it is time for my next hair appointment, I'll make sure to use Color Prepare, fused with fresh, vegan vitamin crystals designed to draw water deposits and other environmental toxins to the surface so they can easily be washed away.
My old hair products are getting the brush off — Malibu's wellness kit is now a staple in my shower.
And with ingredients like lychee and mango essential oils, quinoa, rice, and flax proteins, Vitamins C, B5 and E, and organic aloe, it was a snap to read the label.
Color Wellness Shampoo, 9 oz.; Color Wellness Conditions, 9 oz.; 1-Color Prepare packet; 3 Miracle Repair packet. $30
Available at fine salons, spas, beauty supply stores and MalibuC.com