Products We Love: Park Avenue Prescription
Published: Sunday, September 18th 2011
in Beauty
---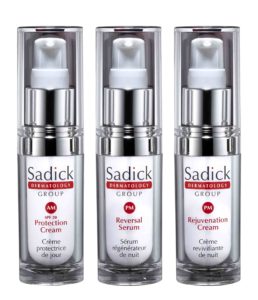 In a beauty world that touts so many products (in their oh-so-pretty packaging!), it can sometimes be difficult to decipher what to use and when to use it. This product offers anti-aging benefits? Is it okay to try it if my skin's sensitive? Can I mix a retinoid cream with a lotion that has alpha hydroxy acids, or does one ingredient counteract the other? Finding the right skincare regimen that best suits you can definitely be overwhelming, not to mention confusing.
Dr. Neil Sadick and his team of experts from Sadick Dermatology Group (with locations on Park Avenue in New York City and Great Neck, Long Island), take the guesswork out of your skincare routine and make it easy with a structured three-step starter kit that touts products for both the a.m. and p.m. If you can't make it to Dr. Sadick's office, this may be the next best thing.
This three-product kit packs a 1-2-3 punch to target the skin's three layers and reduce the signs of aging:
AM Protection Cream – a blend of anti-oxidants and amino acids that provide 24-hour hydration, broad UVA protection (SPF 20), detoxification, and defense against collagen breakdown, while leaving skin with an instantly improved appearance. *An extremely hydrating moisturizer that quenches my dry skin and, as an added bonus, provides sun protection.
PM Reversal Serum – a highly potent cocktail of peptides, retinols, and AHAs to stimulate natural collagen production, enhance cellular turnover, and decrease the appearance of fine lines and wrinkles. Improves the turgor and tension of the skin as well as skin softness and smoothness. *This light serum glides on so smoothly, it feels like I haven't applied anything to my face.
PM Rejuvenation Cream – a calming and relaxing cream with pigment and redness fighting agents targeting melanin (melasma, age spots) and hemoglobin (redness, irritation, rosacea) to reduce inflammation and dark spots while hydrating skin and improving overall skin tone. *Going to bed knowing that my skin is absorbing these spot-reducing, soothing extracts makes me sleep easier.
My verdict? Initial use caused my complexion to become slightly irritated, most likely caused from changing my entire skincare routine at once, but after testing out the program for three weeks, my complexion appears more even, with a plumper, less tired look; my skin is starting to look so bright, in fact, that my twin sister snatched my products from me to try them for herself.
$70, available at www.sadickdermatologygroup.com, Sephora and Sephora.com