Get Smooth with Soap & Glory
Published: Friday, January 6th 2012
in Beauty
---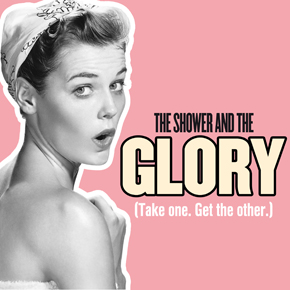 While we normally spotlight just one product in our Product of the Week, I knew I would be amiss if I didn't share both of the great products I tried from Soap & Glory because, frankly, they work amazingly well together.
Soap & Glory, a line of bath, body and beauty products launched in 2006, is the latest brainchild of "suds-loving beauty baroness" and founder of an incredibly widespread and successful chain of spas (Bliss Spa anyone?), Marcia Kilgore. The line was recently picked up by the beauty mecca that is Sephora. While Soap & Glory's cheeky names and girly pink designs might catch your attention at first, after trying them, you'll know that they are so much more than just a pretty box. The products have the most delicious signature "pink fragrance," which features fresh bergamot, mandarin, rose, jasmine, peach, strawberry, oakmoss, amber, woody notes and amber and warm vanilla notes on the bottom. It's incredibly feminine without being overpowering. Here's the low-down on the two products I tried—and loved.
Use this First: Scrub 'Em and Leave 'Em Body Buff; 10.1 oz., $18
This scrub smells incredible; it contains beautiful notes of bergamot, black currant, magnolia, freesia, vanilla, and musk (also found in the line's flirty, floral body spray, Mist You Madly). The babassu oil, a very fast penetrating oil with similar benefits as coconut oil, sea salt and moisturizing jojoba and mandarin oils get to work right away, leaving skin exfoliated and smooth.
Follow with: The Righteous Butter; 10.1 oz., $18
Softening shea butter and aloe vera make this body butter incredibly moisturizing and effective. Created for very dry skin with a new dynamic moisture trap matrix to help hold hydration in longer, it left my skin perfectly quenched without feeling greasy. Plus, that signature pink fragrance made my skin smell amazing. Perhaps the first moisturizer that I don't even have to think about putting on after my shower, it's officially become the part I look forward to.
Together, these Product(s) of the Week work perfectly and will help you tackle dry skin all year long!