Products We Love: Yon-Ka® Paris Quintessence Candle
Published: Friday, October 1st 2010
in Beauty
---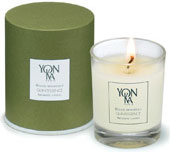 Have you ever walked out of the spa wishing you could bottle up that intoxicating fragrance of relaxation, indulgence, and tranquility that's only seemingly found within a spa's interiors? Difficult to replicate that calm you gain at the spa, it's like leaving the hair salon and knowing the next day you can never make your locks as fabulous-looking as your stylist did. But now you can be reminded of that scent (and feel a little hint of serenity) whenever you want, even when you can't make it to the spa – Yon-Ka® Paris debuts its Quintessence Candle today in spas and salons nationwide.

As an avid enthusiast of the brand's skincare line (in large part because the products, drawn from elements such as fruit and plant extracts, smell amazing), it would only make sense (er, scents?) to me that a candle by the same company would also possess such an intoxicating aroma. And it doesn't disappoint.

The Quintessence candle is all-natural, made from palm and soy waxes (recycled packaging included) and a formula of five essential oils found throughout the brand's product and treatment collection. These oils offer a rich cascade of scent even before the candle's wick is lit:

Lavender – Calming, healing, anti-inflammatory properties
Geranium – Anti-inflammatory, analgesic, healing properties
Rosemary – Stimulating, regenerative, antiseptic properties
Cypress – Decongestant, nervous system regulator properties
Thyme – Stimulant, antiseptic properties

Price: $48; 60-hour burning time.
Available in spas around the country; for more information, visit YonKaUSA.com.