A Journey of Taste: Recipes from Mii amo Spa in Sedona, Arizona
Published: Thursday, October 22nd 2009
in Recipes
---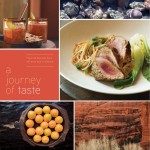 From Mii amo's first cookbook, A Journey of Taste: Favorite Recipes from Mii Amo Spa in Sedona (Chronicle Books), we bring you two of the more than 50 recipes requested by visitors to Mii amo.
Grilled Sea Bass with Orzo Primavera and Saffron Broth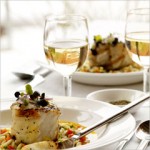 Serves 4
1 cup saffron broth (recipe follows)
1 cup uncooked orzo (rice-shaped pasta)
3 tablespoons olive oil, divided
3 tablespoons finely chopped red onion
1 tablespoon finely chopped celery
1 tablespoon finely chopped carrot
1 tablespoon finely chopped red bell pepper
4 sea bass or other firm-fleshed white fish fillets, about 4 ounces each
1½ tablespoons thinly sliced fresh chives
Salt
Freshly ground pepper
This colorful entrée is made even more irresistible by a shower of fragrant saffron broth ladled over the top just before serving. The plate is then finished off with steamed broccolini and baby carrots.
Bring a medium pot of salted water to a boil over high heat. Add the orzo and cook until tender yet still firm to the bite, 8 to 10 minutes. Drain in a colander and rinse with cold running water.
In a medium sauté pan, heat 2 teaspoons of the oil over medium heat. Add the onion, celery, carrot, and bell pepper. Cook, stirring, until softened but not browned, about 3 minutes. Stir in the orzo. Cover off the heat to keep warm.
Heat a stovetop grill or cast-iron skillet over medium-high heat until hot. Rub the fish fillets with the remaining 1 teaspoon oil and season with salt and pepper. Cook, turning once, until nicely browned on the outside and just opaque throughout, 6 to 8 minutes total.
Stir the chives into the orzo. Mound one fourth of the orzo in the center of each of 4 warm, large shallow soup bowls or dinner plates. Top each portion with a fillet and drizzle with ¼ cup of the saffron broth. Serve at once.
283 cal, 7 g fat, 25 g prot, 23 g carb
Saffron Broth
Makes about 1 cup
1½ cups vegetable stock
2 cremini mushrooms, chopped
1 tablespoon chopped shallot
¼ teaspoon minced garlic
½ teaspoon saffron threads
2 tablespoons peeled and chopped Yukon gold potato
¾ cup dry white wine
Salt
Freshly ground pepper
Saffron is oil soluble, so cooking it a bit before adding it to a liquid helps release some of the flavor.
Spray a medium skillet with nonstick cooking spray. Heat over medium heat until hot. Add the mushrooms, shallot, garlic, and saffron and cook until softened, 2 to 3 minutes. Stir in the potato. Pour in the wine and cook until reduced to about ¼ cup, 3 to 5 minutes. Stir in the stock and increase the heat to medium-high. Cook until the stock has thickened slightly and reduced by half, 5 to 7 minutes.
Using a handheld immersion blender, puree the mixture until smooth. (Alternatively, let the sauce cool 5 to 10 minutes, then puree in a blender or food processor.) Strain the mixture through a sieve and discard the solids. Season to taste with salt and pepper.
Crème Brûlée with Fresh Berries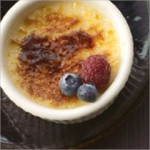 1 cup 2 percent low-fat milk
2½ tablespoons sugar, plus 4 teaspoons for topping
½ vanilla bean (2 to 3 inches long)
2 large eggs
1 large egg white
¾ cup fresh blueberries or raspberries
This version of the perennial restaurant favorite gets an added burst of flavor and texture with the addition of a few fresh berries. This crème brûlée is made like the classic version, it just uses more egg whites in place of egg yolks and 2 percent milk instead of half-and-half and cream. This cuts out a major amount of calories and thus can be eaten without feeling guilty!
Preheat the oven to 325°F. In a small heavy saucepan, whisk together the milk and the 2½ tablespoons sugar. Use a small sharp knife to cut the vanilla bean in half lengthwise. Use the tip of the knife to scrape the vanilla bean seeds into the milk, then add the halved vanilla bean for extra flavor. Cook over medium heat just until bubbles appear around the edge of the pan.
In a small bowl, whisk together the eggs and egg white. Add about ½ cup of the warm milk mixture, whisking until well blended. Pour back into the saucepan and reduce the heat to low. Cook, stirring, until the mixture is thick enough to coat the back of a spoon, about 3 minutes. Do not let boil. Strain the custard through a sieve to remove any bits of cooked egg.
Place about 3 tablespoons of berries in each of four 6-ounce flameproof ramekins or custard cups. Place the ramekins in a larger roasting pan and add enough hot water to reach halfway up the sides of the ramekins. Divide the custard evenly among the ramekins, about ¼ cup per serving. Bake until the custards are set and a knife inserted into the custard comes out clean, about 30 minutes. Remove the custards from the water bath and let cool.
Refrigerate uncovered until the custards are thoroughly chilled, about 4 hours.
Just before serving, sprinkle 1 teaspoon of sugar evenly over the surface of each cold custard, covering the top completely. Using a propane or butane kitchen torch, move the flame back and forth, close to the sugar, until it melts and bubbles and then caramelizes and turns golden brown. (Alternatively, preheat the broiler until hot. Place the ramekins on a baking sheet and broil 6 to 8 inches from the heat, watching carefully, until the sugar is golden brown and caramelized.) Let stand until the sugar has cooled and hardened, 3 to 5 minutes. Serve at once. Each diner should use a spoon to crack the caramelized sugar crust, taking a spoonful of the creamy berry custard with each bite, along with a bit of the crust.
131 cal, 4 g fat, 7 g prot, 16 g carb
Text copyright © 2008 by Mii amo Spa. Reprinted by permission.
Most recent from Recipes