BodyHoliday's Tri-Colored Yogurt Popsicle Recipe
---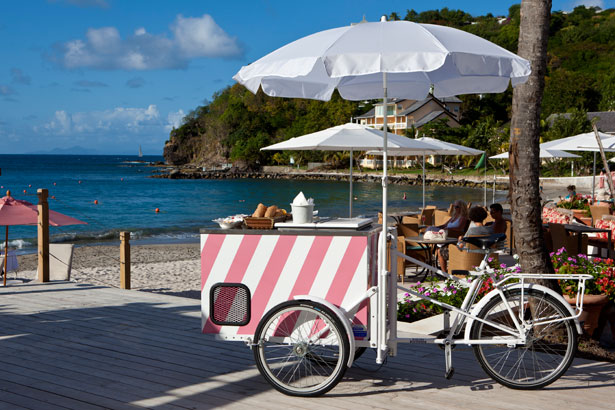 Just in time for the Fourth of July, celebrate with some deliciously refreshing fruit yogurt popsicles. This recipe from BodyHoliday at LeSPORT in Saint Lucia is as healthy as it is tasty, and will have you feeling like you're sitting seaside at the resort: Just take a bite, close your eyes and imagine yourself enjoying one of these treats from BodyHoliday's icicle tricycle at the beach pictured above!
We love a creamy popsicle, and while this recipe takes a bit of time, mostly freezing time, your eyes will be as pleased as your taste buds when you see the beautiful colors layered atop each other. No time for layering? Layer just two of the flavors, or make all three but skip the layering (as pictured below) and you'll have your very own homemade variety pack.
Strawberry, Blueberry & Vanilla Yogurt Popsicles (Serves 16)
For the vanilla:
14 oz. fat-free vanilla yogurt
2 tbsp agave or sugar
1 cup crushed ice
For the strawberry:
¾ cup raspberries
¾ cup strawberries
6 oz. fat-free strawberry yogurt
1 cup crushed ice
For the blueberry:
1 cup blueberries
½ cup blackberries
6 oz. fat-free blueberry yogurt
1 cup crushed ice
Instructions:
Blend each color (vanilla, strawberry and blueberry) separately in a blender and set aside.
Pour the first color into the popsicle mold one-third of the way and freeze for 30 minutes. Remove from the freezer and insert the sticks, then freeze one hour.
Add the vanilla yogurt into each popsicle mold one-third of the way and freeze an additional hour. Add the blueberry smoothie and fill it to the top of the mold and freeze until ready to eat.
Hungry for more?
Hilton Head Health's Skinny Cinnamon Ice Cream
Healthy Summer Spa Recipes to Sip
10 Spa Cookbooks We Love
7 Cold Soup Recipes for Hot Summer Days
Sanoviv's Stuffed Zucchini Recipe
Our Top 5 Coconut Water Picks
7 Bright & Healthy Summer Salads
Alaskan Halibut with Shoestring Vegetables
Black Bean Brownies