Boozy Brunch: Healthy Recipes to Pair With Your Next Mimosa
Published: Saturday, March 8th 2014
in Recipes
---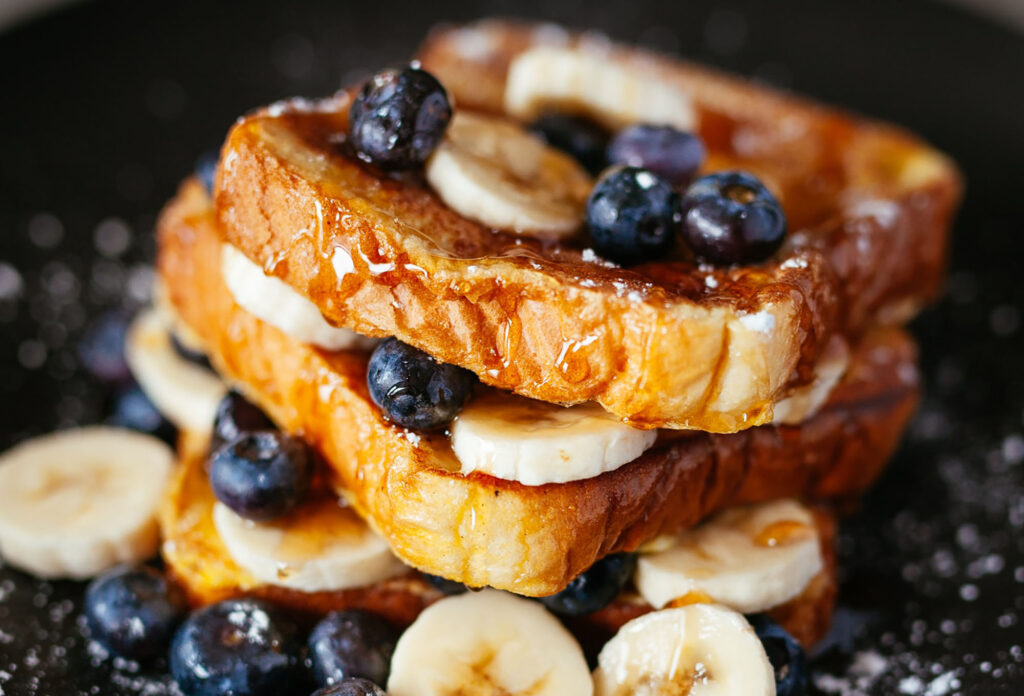 Maybe it's just me, and I don't think it's just me, but a good boozy Sunday-Funday brunch is sometimes just what the doctor ordered. A morning mimosa (and I mean a mimosa: read, one) is really one of my favorite ways to affirm that I am indeed now a fancy adult who is allowed to consume champagne whenever I please provided it's mixed with orange juice and, of course, I'm not on my way to the office. When poured properly a mimosa contains around 75 calories, it's when we start adding greasy, fried, or sugary foods to our brunch that the meal can really take an unhealthy turn. We believe boozy brunch doesn't have to be a calorie-cholesterol-carb-heavy nightmare and in fact, there are wonderful, healthy, and delicious spa-inspired recipes that are perfect to pair with your next mimosa – guilt-free! Here are our 3 current faves below:
Blueberry Stuffed French Toast with Maple Syrup from Red Mountain Spa
Serves 8; Serving Size: ½ a sandwiched toast + 1 tablespoon syrup
2 cups light cream cheese
¼ cup blueberries, dried
½ tablespoon mint, chopped
8 3/4oz slices whole wheat raisin bread
½ cup 100% maple syrup
Combine cream cheese, blueberries, and mint
Make sandwiches of 2 slices of bread with cream cheese mixture in between
Brown both sides on a dry, non-stick grill
Calories: 252 | 10g fat | 7g saturated fat | 30mg cholesterol | 30g carbohydrate | 8g protein | 477mg sodium | 1g fiber
Lourdes' Huevos Rancheros from Cal-a-Vie Health Spa
Serves 6
1 tablespoon chopped onion
2 teaspoons chopped garlic
1 chipotle chile, chopped
1 teaspoon each coriander, cumin, and chili powder
½ cup chicken stock or vegetable stock
1 (28-ounce) can peeled whole tomatoes
2 tablespoons chopped fresh cilantro
salt to taste
12 eggs
6 corn tortillas or whole wheat tortillas
shredded low-fat cheese, for garnish
1. Saute the onion and garlic in a saute pan sprayed with nonstick cooking spray. Add the chipotle chile, coriander, cumin, and chili powder and saute over low heat for several minutes.
2. Add the stock and bring to a boil. Cook for 5 minutes. Add the tomatoes and return to a boil. Reduce the heat and simmer until of the desired consistency. Cool for 10 minutes. Process in a blender or food processor until pureed. Combine with the cilantro and salt to taste in a bowl.
3. Cook the eggs over easy in a saute pan sprayed with nonstick cooking spray. Slide the eggs onto the tortillas on serving plates and top with sauce. Garnish with shredded low-fat cheese, if desired.
Calories: 356 | 39g carbohydrate | 19g protein | 14g fat | 5g fiber | 423mg cholesterol | 650mg sodium
Blue Corn Waffles from Mii amo
Serves 8; Serving Size: (1) 4-inch square waffle
For Blue Corn Waffle Mix
Makes 4 cups
2 cups blue cornmeal
2 cups all-purpose flour
2 tablespoons baking powder
2 teaspoons baking soda
2 teaspoons coarse (kosher) salt
3/4 teaspoon brown sugar
In a large bowl, combine the cornmeal, flour, baking soda, salt, and sugar. Whisk gently to blend well. Use at once, or store in an airtight container in the refrigerator. The waffle mix should be kept cold, as warmth will encourage gluten and turns the mix lumpy.
For Waffles
1 cup blue corn waffle mix (see above)
1 1/8 cups low-fat buttermilk
1 large egg
1. Spray waffle iron with nonstick cooking spray and preheat according to the manufacturer's directions. In a large bowl, whisk together the buttermilk and egg until well blended. Fold in the waffle mix until evenly moistened.
2. Pour about 1 cup of the batter into the waffle iron and cook as recommended by the manufacturer, until cooked through and nicely browned on the outside. Keep the waffles warm while you cook the remaining batter.
Calories: 82 | 2g fat | 4g protein | 13g carbohydrate
Most recent from Recipes