When Did Breakfast Get So Complicated? 2 Easy and Healthy Recipes!
Published: Friday, February 22nd 2013
in Recipes
---
By Veronica Bosgraaf, founder of Pure
A typical morning in my household consists of my 9-year-old wanting the sugary cereal he had at a friend's house, my 15-year-old requesting two travel-sized mugs filled with black coffee, and my 13-year-old grunting at me. Needless to say, each morning I'm faced with a challenge: How in the world am I supposed to fix a healthy breakfast that they will all like and actually eat?
Breakfast can be a huge challenge for anyone, especially because it hits you in the face first thing in the morning when you're almost always short on time and patience. Yet, leave it to the guilty mom gene to make sure we all stress over sending our kids out the door with a good breakfast in their cute, albeit somewhat demanding, little tummies.
While I certainly don't have all the answers, I've been doing the mom thing for 15 years now and I have learned a few things by trial and error. Like, for example, less is more.  Of course the easiest route in our house is always a Pure Bar, but if you are feeling the need to put a bit more effort behind your family breakfast, here are two of my best, and simple, healthy breakfast recipe suggestions.
A Fast & Delicious Breakfast Smoothie
In my house, smoothies are always the winner. They are great because you kind of feel like you're drinking a milkshake, which almost seems naughty, and kids love that. My 9-year-old loves the sweet taste, which is all that really matters to him, and my teenage girls like smoothies because it's as if they're not even eating. It's effortless to drink your nutrients through a straw.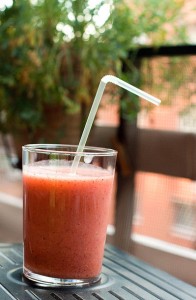 Breakfast Smoothie (Serves 4):
1 cup organic plain yogurt
2 cups orange juice
1 frozen banana
1 cup berries fresh or frozen
Handful of spinach (they will never know)
Vegan Option:
1 cup almond milk
2 frozen bananas
2 cups frozen berries
1 tbsp coconut oil
Combine all ingredients into a blender, blend, and serve with a straw.
Sweet Honey and Cinnamon Toast with Sliced Pear
This next recipe actually requires people to assemble at a counter or table, so it's a little harder to implement. But the breakfast itself is very easy to assemble, and it smells good! High in antioxidants and nutrients, this one is delicious enough that if you make it, they will come.
Honey and Cinnamon Toast with Sliced Pear (Serves 4):
4 slices of bread
2 large pears
Honey and cinnamon to taste
Toast the bread until just warm but not brown. Drizzle with honey and sprinkle with cinnamon. Cut each slice into four pieces and serve with fresh pear slices.
For more information on Veronica Bosgraaf & Pure please visit thepurebar.com
*    *    *    *    *
Breakfast still leaving you stressed out? Time to head to the spa to a little R&R action! Browse through Spafinder Wellness 365 Gift Card options and find a spa or wellness location near you today!
You might also like:
Change My Breakfast: 3 Deliciously Healthy Oatmeal Recipes
Comfort Foods Made Healthy: 12 Recipes to Satisfy Winter Cravings
6 Ways to Stay or Become Heart Healthy
The Skinny on Eating with the Seasons + 5 Foods to Help Your Body Thrive this Winter
Cleanse & Renew: 7 Detox Juice & Smoothie Recipes
Most recent from Recipes