Breast Cancer Awareness Recipe: Cal-a-Vie's Blueberry Mousse
---
We love hearing about the benefits of blueberries; not only are they delicious and easy to eat, but eating blueberries may inhibit breast cancer tumor growth, according to a recent study published in the October 2011 issue of The Journal Of Nutrition. Rich in antioxidants, blueberries are also great to get glowing skin.
While blueberry season might be over for most of the country, frozen blueberries work wonders in a number of recipes; besides smoothies, or thawing them to sprinkle on your favorite breakfast, try this quick and simple recipe for Blueberry Mousse from Cal-a-Vie in Vista, California.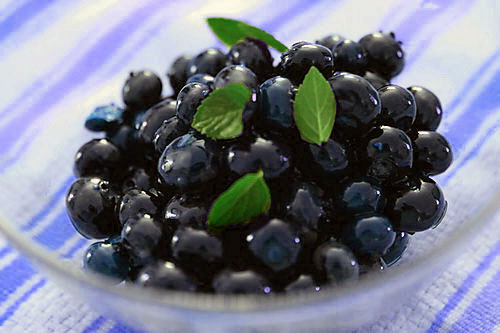 Blueberry Mousse (Serves 12)
2½ cups frozen blueberries (reserve 2 tbsp for garnish)
2 tsp crème de cassis
2 tbsp honey
½ ripe banana
¼ tsp vanilla
¼ cup non-fat powdered milk or ¼ cup protein powder
Juice of ½ an orange
Instructions:
Chill the bowl of a food processor. Combine blueberries, crème de cassis, honey, banana, vanilla and powdered milk in the bowl and process for 4-5 minutes, or until thick and smooth.
Spoon into 12 chilled champagne glasses and garnish with the remaining blueberries.
Serve immediately before the mousse has a chance to liquefy, or freeze to serve later.
Nutritional information per serving: 29 calories (14 calories per ounce), 6.8 g carbohydrates (89% of calories from carbs), 0.6 g protein (8% of calories from protein), 0.7 g fat (2% of calories from fat), .4 g fiber, .3 mg cholesterol, 9.9 mg sodium
About Cal-a-Vie's Low-Calorie, Gourmet Cuisine
Proper nutrition plays an integral role in helping achieve personal fitness goals at Cal-a-Vie. Cal-a-Vie has developed a menu that not only nourishes, but also strives to instill within each guest the notion that simple, healthy eating can be elevated to gourmet status. The gourmet cuisine is enhanced by garden fresh herbs and vegetables that are carefully prepared and artfully presented to help slim, balance, and revitalize your body while meeting your unique nutritional needs.
Related:
Pink Treatments: Spas Support Breast Cancer Awareness
Beauty for a Cause: Breast Cancer Awareness Products 2011
5 Super Foods You Should be Eating but Probably Aren't
Nutrition in a Nutshell
Green Mountain at Fox Run Recipe: Baked Apples with Fresh Figs and Vermont Maple Syrup
Most recent from Recipes