8 Guilt-Free Holiday Dessert Recipes
Published: Thursday, December 12th 2013
in Recipes
---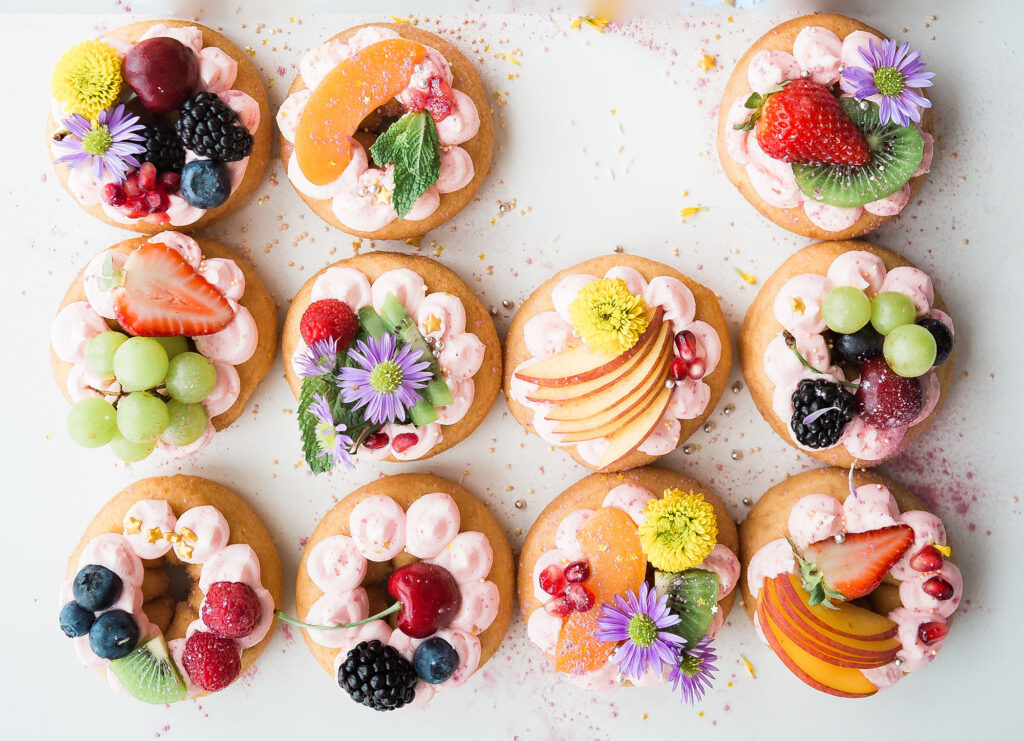 You've been good all year but that doesn't mean you have to sacrifice one of the best parts of the holiday season – the delicious dessert table doesn't have to be bad for you! Satisfy your sweet tooth and stay on track through the New Year by trying these guilt-free holiday desserts!
Dark Chocolate Almond Milk Custard with Fruit and Nut Granola from Pastry Chef Daniel Benjamin of Herons, the Forbes Five Star, AAA Five Diamond restaurant at The Umstead Hotel and Spa in Cary, N.C.
Dark Chocolate Almond Milk Custard
1 cup almond milk
Pinch of salt
8oz. Dark Chocolate
1¼ cups water
1/8 teaspoon kappa carrageenan
¼ teaspoon iota carrageenan
1. Combine almond milk, salt, and chocolate in a bowl over double boiler until smooth, set aside.
2. With a hand blender mix the carrageenan into the water. Then, pour into sauce pan and bring to full boil
3. Pour over the chocolate mixture and mix well.
4. Pour Custard into desired serving dish (ramekin, martini glass, bowl, etc.)
5. Allow to set in fridge for 1 hour
Fruit and Nut Granola
½ cup honey
½ cup maple syrup
¼ cup olive oil, citrus flavored
Nice pinch of salt
½ teaspoon ground cinnamon
1½ cups rolled oats
¼ cup toasted coconut
¼ cup toasted sliced almonds
¼ cup freeze-dried raspberries
1. Combined honey, syrup, olive oil, salt, and cinnamon in sauce pan and warm (taste for salt and season as needed)
2. Once seasoned well bring to full boil and boil for 3 minutes
3. Pour over oats and toss to combine
4. Pour onto parchment lined sheet pan and bake at 300 until golden brown and crispy
5. Remove from oven. Remove mixture from parchment paper and pour onto clean cool surface, separate
6. Once cooled rough chop in food processor to break into pieces
7. In a bowl combine mixture with coconut, raspberries, and almonds
8. Spoon over custard and top with nice sorbet, blood orange, or citrus works nicely
Cinnamon-Almond Holiday Butter Cookies from Shane Diet, Weight Loss & Fitness Resorts
Makes 24 cookies, Serving Size: 1 cookie
½ cup unsalted butter
¾ cup dark brown sugar, loosely packed
1 large egg
1 teaspoon vanilla extract
1¼ cups whole-wheat pastry flour
1 cup almond flour
1½ teaspoons ground cinnamon
1 teaspoon baking powder
Pinch of salt
For topping:
¼ cup granulated sugar
½ teaspoon cinnamon
1. Beat butter and sugar in a mixing bowl with an electric mixer until creamy. Add egg and vanilla extract and mix well. Combine dry ingredients in a separate bowl and add to the butter mixture. Beat on low speed until combined.
2. Divide the dough in half and use lightly floured hands to shape each portion into a 6-inch round log. Wrap each log in saran wrap and place in freezer for about 30 minutes.
3. Preheat oven to 350°F
4. Unwrap the dough. Combine the ¼ cup granulated sugar and cinnamon on a shallow plate. Roll the logs in the sugar mixture, and then slice each into 12 (½ -inch-thick) cookies. Place the cookies about 2 ½ inches apart on ungreased baking sheets.
5. Bake, one batch at a time, until lightly browned, 10 to 12 minutes.
117 Calories | 6.6g fat | 40mg sodium | 12.5g carbohydrate | 6.7g sugar | 0.7g fiber | 1g protein
Pumpkin Spice Brownies from Shane Diet, Weight Loss & Fitness Resorts
Serves 9, Serving Size: 1 Brownie
1 cup canned pumpkin puree (not pumpkin pie filling)
½ cup pure maple syrup
¼ teaspoon vanilla extract
3 eggs, lightly whisked
¼ cup coconut oil
2½ tablespoons unsweetened cocoa powder
3 tablespoons whole wheat flour (can also use almond flour)
¼ teaspoon baking powder
Pinch of salt
½ teaspoon cinnamon
¼ teaspoon ground nutmeg
¼ teaspoon ground ginger
pinch of ground cloves
1. Preheat oven to 350 degrees.
2. Add all ingredients to a large bowl and mix until well combined.
3. Grease an 8×8 glass baking dish with coconut oil or olive oil spray and pour in the mixture.
4. Bake for 30-35 minutes until you can poke a toothpick in the middle and have it come out clean.
5. Let it cool, slice into 9 brownies, and enjoy.
140 calories | 3g protein | 8g fat | 113mg sodium | 16g carbohydrate | 2g fiber
Vegan Pumpkin Mousse from The Oaks at Ojai
Serves 24, Serving Size: ¼ cup
3 cups pumpkin puree (canned or fresh; if fresh, drain well in colander)
12oz. soft or silken tofu
1 teaspoon powdered agar or 2 tablespoons agar flakes
¼ cup apple juice concentrate
6oz. water
½ cup honey
2 teaspoons ground cinnamon
¼ teaspoon ground all-spice
½ teaspoon ground ginger
1. Mix water and apple juice concentrate in a small saucepan. Sprinkle agar over liquid and let sit for five minutes.
2. In the meantime, puree tofu in food processor until smooth. Add pumpkin, honey, and spices and continue to process until smooth.
3. On low heat, melt agar in the liquid. Whisk until smooth (you do not want any lumps in this).
4. With processor running, add agar and liquid mixture. Process until well incorporated.
5. Chill for at least three hours or overnight.
6. Mousse can then be scooped with ice cream scoop onto plate or into bowl and garnished with toasted walnuts, if desired, drizzled with a tsp. of maple syrup or scooped into a poached gingered pear. It can also be poured into a pre-baked pie shell if desired and chilled.
45 calories | 0.5g fat | 1.5g fiber | 9.6g carbohydrate | 1.5g protein
Apple-Blueberry Turnovers from The Oaks at Ojai
Serves 4
¾ cup baking apples (Pippin or Granny Smith)
¼ cup fresh or frozen blueberries
1 teaspoon whole wheat flour
1 tablespoon agave or honey
½ teaspoon cinnamon
1 sheet filo
1. Wash, quarter, core and slice the apples very thinly. Place in a small bowl. Toss the apples with the cinnamon and flour. Drizzle agave over the top and toss to mix.
2. Place one sheet of filo dough in front of you and fold lengthwise. Place apple mixture across the end of the filo dough closest to you. Roll like a jellyroll and place on a cookie sheet sprayed with non-stick spray.
3. Brush the top with apple juice concentrate and spray briefly with butter spray. Bake at 350 degrees for approx. 15-25 minutes, until top is browned and apples are soft.
4. Cut each roll into 4 pieces and serve with a dollop of non-fat vanilla yogurt.
50 calories
Cranberry-Apple Crisp from The Oaks at Ojai
Serves 14
½ cup apple juice concentrate
½ tablespoon arrowroot
Combine, whisk together, and stir over low heat to thicken. Mixture will be thick and clear.
3 cups fresh cranberries, washed
3 cups Granny Smith or Pippin apples, sliced
1 tablespoon brown rice flour
½ teaspoon cinnamon
Toss with apple syrup and place in a 9" x 12", nonstick sprayed, baking dish.
½ cup rolled oats
¼ cup Grape Nuts
2 tablespoons apple juice concentrate
1. Toss together to moisten cereal and sprinkle over Cranberry Apple mixture.
2. Bake at 350 for 40 minutes until hot and bubbly. Serve warm or chilled.
For Blueberry-Apple Crisps, substitute 3 cups of blueberries for the cranberries.
70 calories | trace fat | 16g carbohydrate | 1g protein | 15mg sodium
Coconut Macaroons from Hilton Head Health
Serves: 12, Serving Size: 1 each/ 1 tablespoon
1 each egg white
1 tablespoon sugar
¼ teaspoon vanilla extract
1/8 teaspoon almond extract
¾ cup sweetened flaked coconut
1. Preheat oven to 300°F
2. Lightly spray baking sheet with pan spray
3. Separate egg, use egg white only; place in medium sized bowl or stand mixer bowl with whip attachment.
4. On high speed with an electric mixer or stand mixer, whip egg white and slowly add sugar as the egg is whipping.
5. Egg white mixture will form stiff peaks.
6. Fold in vanilla and almond extract then gently fold in flaked coconut. If over mixed, egg mixture will break and fall.
7. Then scoop tablespoon size macaroons onto baking sheet, leave each macaroon about 1 inch apart.
8. Bake until tops are pale golden about 15 to 20 minutes
75 calories | 3.5g fat
Grasshopper Pie from Hilton Head Health
Serves: 12, Serving Size: 1/12 piece of pie
4 each egg whites, (not egg white beaters)
Pinch cream of tartar
2 tablespoons sugar
2 cups marshmallows, melted
2 tablespoons butter
2 cups fat-free Cool Whip
¼ cup Crème de menthe
2 tablespoon Crème de Cacoa
Crust
1 cup chocolate graham crackers, crushed
1 teaspoon canola oil
1 each egg white (for crust)
¼ cup mini chocolate chips for garnish
1. Preheat oven to 350°F. Spray pie pan with nonstick spray, very lightly.
2. Make crust mixture and pat down in pan to form an even pie crust. Crust maybe a little sticky, but this prevents us from adding too much fat. Bake in oven for about 15-20 minutes, then set aside and cool.
3. Separate egg whites from egg yolks and place in medium sized mixing bowl. Let it come to room temperature, this helps the egg whites whip really well.
4. Once egg whites have come to room temperature add a pinch of cream of tartar and start to beat with hand mixer or standing mixer. Once eggs start to foam, gradually add sugar. Egg whites need to form stiff peaks and mixture will look really glossy.
5. Then place butter and marshmallows in microwavable bowl, and melt. Stir every 3 minutes for about 6-8 minutes. Add both liqueurs to marshmallow butter mixture, set aside and let cool. Fold fat-free cool whip into egg whites along with the melted marshmallows and butter mixture. Mix until all ingredients are evenly distributed.
6. Place mixture in cooled chocolate pie crust, and then garnish with mini- chocolate chips, and freeze for at least 4 hours.
130 calories | 3.5g fat