Cal-a-Vie Recipe: Rigatoni alla Bolognese
---
We know Thanksgiving may have worn you out, and now with December holiday meals to worry about as well, we wanted to give you a simple, but comforting favorite recipe from Cal-a-Vie. While this version calls for ground turkey, feel free to use any protein or protein substitute you like. You can also experiment with different pastas, such as ziti, penne, or ravioli.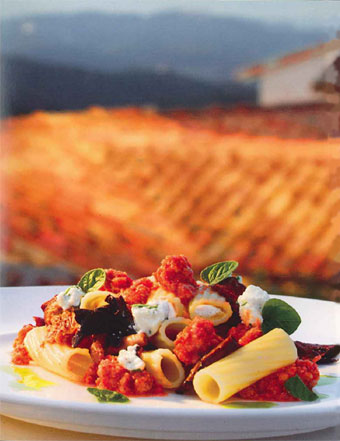 We suggest starting with the sauce, then going to work on the mushrooms as the sauce is simmering. While the mushrooms are roasting in the oven, start the steps for pasta and by the time the pasta is done, both sauce and mushrooms will be nice and ready to top the pasta with. And, if that's not efficient enough for you, the sauce can be frozen for up to one month, too!
Turkey and Tomato Bolognese Sauce Ingredients (Serves 6  (2 cups per serving)):
1 pound ground turkey
½ onion, chopped
½ cup chopped carrot
2 ribs celery, chopped
½ cup red wine
2 (28-ounce) cans peeled whole tomatoes w/basil
5 or 6 basil leaves
½ tsp chopped fresh parsley
1 tbsp chopped fresh thyme
Salt and pepper to taste
½ cup low-fat or light ricotta cheese
Instructions:
Brown the turkey in a saucepan, stirring until crumbly. Add the onion, carrots, celery, and garlic. Add the wine and cook for 2 to 3 minutes. Stir in the tomatoes, basil, parsley, thyme, salt, and pepper.
Simmer the sauce for 30 minutes. Add the cheese and pulse with a hand held blender until smooth. You can freeze any unused sauce.
Roasted Mushrooms Ingredients:
1 cup cremini mushrooms                            1 tbsp crushed garlic
1 cup black trumpet mushrooms                 1 tsp extra-virgin olive oil
1 cup king oyster mushrooms                      Salt and pepper to taste
2 tbsp chopped shallots
Instructions:
Preheat the oven to 450 degrees. Remove the mushroom stems and reserve for another use. Brush the caps with a damp towel to clean. Do not wash the mushrooms with water, as they will become soggy. Tear the mushrooms into 1-inch pieces by hand and combine in a bowl with shallots, garlic, olive oil, salt, and pepper.
Spread a single layer on a baking sheet. Roast for 15 to 20 minutes or until tender; drain. Serve immediately.
Pasta Ingredients:
2 gallons water                                            1 tbsp basil oil (optional)
Salt to taste                                                   1 recipe Turkey and Tomato Bolognese Sauce (from above)
Vegetable oil                                                1 recipe Roasted Mushrooms (from above)
1 pound fresh or dried rigatoni                 4 tsp low-fat ricotta cheese
1 tsp extra-virgin olive oil                            4 tsp grated Parmigiano-Reggiano
Pepper to taste
Instructions:
Bring the water to a boil in a large stockpot. Add salt and a dash of vegetable oil. Add pasta and cook until tender, stirring frequently; drain well.
Combine the pasta with the olive oil in a bowl and season with salt and pepper. Spoon into bowls dotted with basil oil and top with the Turkey Tomato Bolognese Sauce, Roasted Mushrooms, ricotta cheese, and Parmigiano-Reggiano.
Most recent from Recipes