Top Resort Chef: Chef Paul Stradner, Chef de Cuisine Brenners Park-Hotel & Spa
Published: Wednesday, August 19th 2015
in Recipes
---
As one of the world's Pioneer Spas, Brenners Park-Hotel & Spa, in Baden-Baden, Germany, has been serving up wellness to guests since 1872. Now, more than 140 years later, Brenners Park remains a leader in wellness travel in part thanks to its renowned cuisine, specifically the acclaimed dishes created at Brenners Park-Restaurant by Chef Paul Stradner, Chef de Cuisine and this months' Top Resort Chef. We're shining the spotlight on Chef Stradner and sharing his fabulous, mouth-watering recipe for Austrian Alpine Salmon below!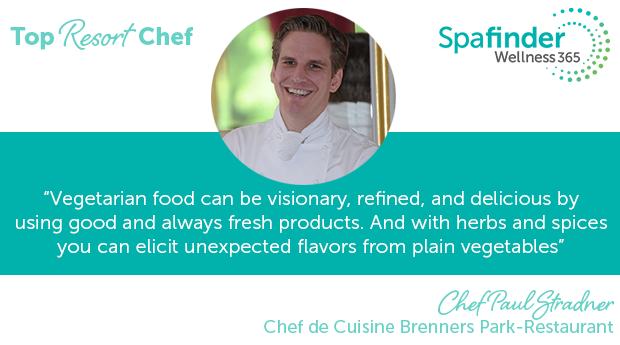 Chef Paul Stradner grew up in a rural area in Graz, Austria, known for its cattle breeding and fruit and vegetable farming, an agricultural backdrop that initially inspired him to begin his culinary career. His true initiation began at Graz' Luttenberger restaurant and France's Château de Nantilly as well as under the guidance of Chefs Jean-Georges Klein and Harald Wohlfahr. These experiences eventually led him to his current position as Chef de Cuisine at Brenners Park-Restaurant in 2012.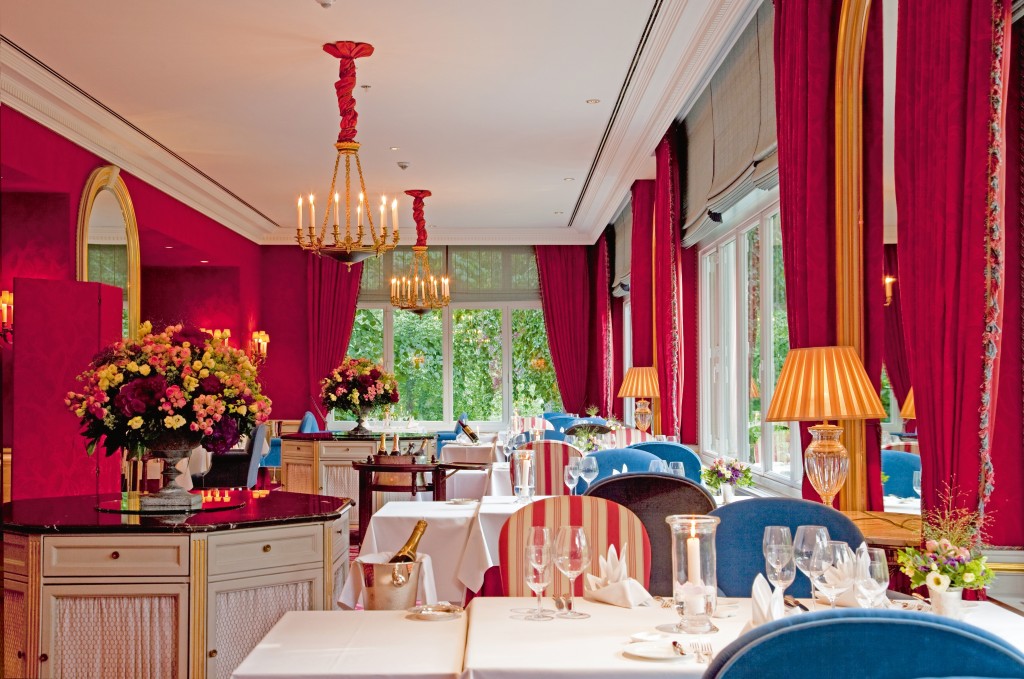 Three months after starting as Head Chef at Brenners Park, Chef Stradner earned his first Michelin star followed by 17 points in the 2013 Gault Millau guide. No surprise, as Chef combines the latest culinary trends with unique flavors, first-class ingredients, and a style of cuisine with deep French roots. In addition to the modern fare, Chef Stradner gives a nod to the classics, creating time-honored dishes that are guest favorites, such as Baden-Baden saddle of venison. "Above all," Chef says, "consumers drive transparency. Food integrity and product transparency are a growing concern. Our guests expect only the finest sustainably and environmentally grown products of impeccable standards."
While his meat dishes are truly acclaimed, Chef Stradner has a love for vegetables and features a six-course vegetarian menu, inspired by his mother's vegetable garden cuisine. "Vegetables are becoming more and more prominent. Vegetarian food can be visionary, refined, and delicious by using good and always fresh products, and with herbs and spices you can elicit unexpected flavors from plain vegetables."
Can't make it to Germany to taste Chef Stradner's five- or seven-course degustation menu? Try his recipe for Austrian Alpine Salmon!
Marinated Austrian Alpine Salmon with Asian Aromas
Serves 4
300g filet Alpine salmon
16g sugar
22g coarse sea salt
Zest of one organic lemon
20g takuan
Thoroughly mix the sugar, salt, and the zest from the lemon together. Spread this mixture over the fleshy side of the salmon filet and marinate in the fridge for 24 hours. Then rinse off thoroughly, lay the filet on kitchen paper to dry and remove the skin. Before arranging, portion into filets of the desired size. Cut the takuan into 1mm slices and cover the salmon portions with them.
Seaweed Jelly
100ml water
1/4 piece Nori seaweed
2.5g dashi powder
2.5g dried seaweed mix
1g agar-agar
2g gelatine
Bring all ingredients (except gelatine and agar-agar) to a boil, cover, and let stand for approximately 1 hour. Then strain, add the agar-agar and the gelatine to the stock and allow to harden on a baking tray in the fridge for 24 hours. Before serving, cut to the same size as the salmon and lay on top of the radish slices on the salmon.
Miso Cream
50ml water
50g miso paste
1g agar-agar
1g gellan gum
Bring all ingredients to a boil for 2 minutes while stirring continuously. Cool overnight in the fridge and beat to a smooth cream before serving.
Soya Cream
50g low-salt soya sauce
40g water
1g gellan gum
1g agar-agar
.5g kappa
Prepare the same as miso cream.
Mizkan Cream
45g Mizkan vinegar
45g water
1g gellan gum
Salt, to taste
Prepare the same as miso cream.
Garnish fish with wasabi paste, puffed rice, and sushi ginger.
Most recent from Recipes