Chiva-Som Recipe: Mango & Yogurt Parfait with Pomegranate Granita
---
Savor summer with a scrumptious dessert! Creamy and refreshing, this recipe comes from Chiva-Som in Thailand, and is full of deliciously sweet ingredients.
Mangoes are a hydrating fruit composed of almost 84% water, and  are packed with vitamins A and C. Low in calories, and high in vitamins and minerals, one mango contains over three grams of fiber, and a plethora of other nutrients, such as magnesium, calcium, iron, zinc, and more. Also, rice flour is gluten-free, and vegetarians can substitute gelatin with agar, a gelatinous substance derived from a type of red algae. Agar is high in fiber, so it can aid in digestion, and is most commonly used in Asian desserts. You can also look for kosher gelatin, as many kosher gelatins are vegan as well.
We also love the pomegranate granita, pleasing to the eye, and to the taste-buds, it adds a refreshing element to the dessert with little-to-no effort.
Give it a try and let us know what you think!
Mango and Yogurt Parfait with Pomegranate Granita (Serves 1)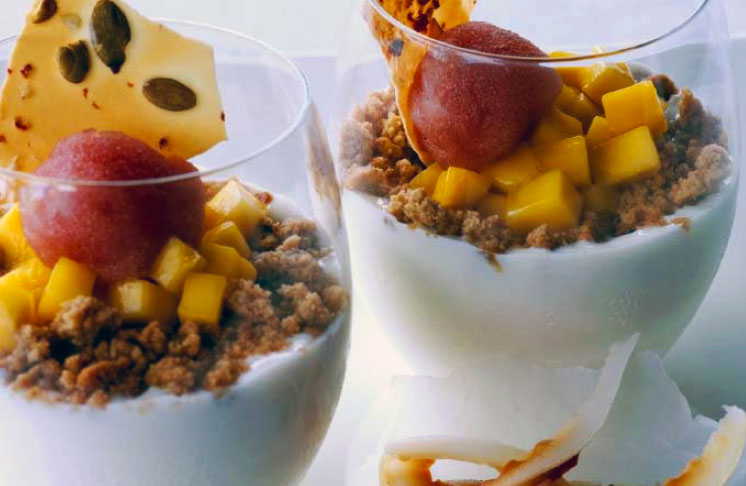 Ingredients:
1/5 cup yogurt
½ tbsp honey
2 tsp water
1 sheet gelatin (approx. 1 tsp powdered gelatin or 1 tsp agar agar powder)
2 tbsp diced mango
1/5 cup pomegranate water
¼ cup rice flour
1½ tsp brown sugar
2 tsp butter
Instructions:
1. In a mixing bowl, whisk the brown sugar, rice flour and butter until blended evenly, then bake at 320°F for 13 minutes.
2. Chill the pomegranate water until it is frozen to a slush-like consistency; not solid.
3. Mix the yogurt, honey, water and gelatin together then put in a glass. Chill for 2 hours.
4. To serve, top the yogurt first with the baked mix, then diced mango and then a scoop of the iced pomegranate water.
Nutrients per serving: 138 calories, 5.8g fat, 2.7g protein, 19.8g carbohydrates
About Chiva Som:
Located by the beach in Hua Hin, Thailand, Chiva-Som, whose name means 'Haven of Life,' was one of the first destination spas in Asia in 1995. The spa, whose services and architecture merge Eastern and Western influences, has a worldwide reputation and serves up both international fare and Thai spa cuisine. For their flavorful dishes, both The Emerald Restaurant and the Taste of Siam Restaurant have won numerous awards, and menus at both change daily. All dishes are simple enough to be prepared by guests when they return home, and the spa offers cooking classes and has its own cookbook, Chiva-Som Natural Way to Healthy Eating and Living.
Most recent from Recipes