Curves Complete Recipe: 30-Minute Lentil Salad
---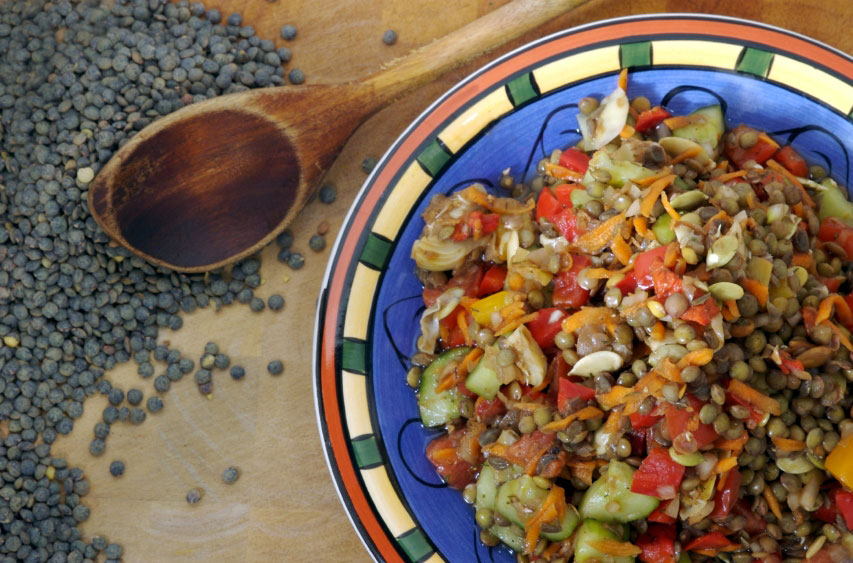 This fibrously delicious recipe is a part of our Healthy Eating at the Office story! Read the full story for even more recipes and helpful tips to eat healthy while at the office.
"If you are looking for a healthy lunch to pack for work, this is a fantastic option," says Nadia Rodman, RD, director of nutrition for Curves International, Inc. "You can make a larger serving size and eat it throughout the week. Lentils are a fiber powerhouse. This dish packs 20 grams of fiber per serving! It will definitely keep you full and energized for the day."
Lentil Salad (Makes 4 servings)
Ingredients:
8 oz. (225 g) lentils
2 garlic cloves
2 bay leaves
1 yellow bell pepper
1 red bell pepper
2 carrots
1 tomato
¼ cup onion
¼ cup parsley
¼ cup olives
⅓ cup feta
⅓ cup slivered almonds
¼ cup red wine vinegar
2 tbsp olive oil
¾ tsp salt
¼ tsp pepper
Instructions:

Rinse lentils and mince garlic. Place lentils, garlic and bay leaves in a saucepan. Cover with water and bring to a boil. Turn heat to low, cover and simmer until lentils are tender- about 30 minutes. Drain and discard bay leaves.
While lentils are cooking, dice bell peppers (capsicum), carrot, tomato, onion and parsley. Chop olives and place them in a bowl along with the vegetables. Add the lentils, feta and almonds.
Whisk vinegar, oil, salt and pepper in a bowl. Pour over lentils and toss to combine.
Nutrition information: 393 calories | 17 g fat | 4 g saturated fat | 395 mg sodium | 43 g carbohydrate | 20 g fiber | 19 g protein
Most recent from Recipes