Dan'l Webster Inn & Spa Recipe: Summer Berry Pudding
---
Berries are ripe and there's nothing like going berry picking. Even if you can't make it out to pick some fresh ones, your local farmers' market should be flooded with them – raspberries, strawberries, blackberries and blueberries! Take advantage of the variety available to you and use them all in this Summer Berry Pudding recipe from Dan'l Webster Inn & Spa in Historic Sandwich Village, Massachusetts.
Use any mix of berries for this simple and summery make-ahead desert. Make it healthier with soft whole wheat bread – though, the texture and taste may vary. You can also make individually sized puddings, as pictured, by using ramekins.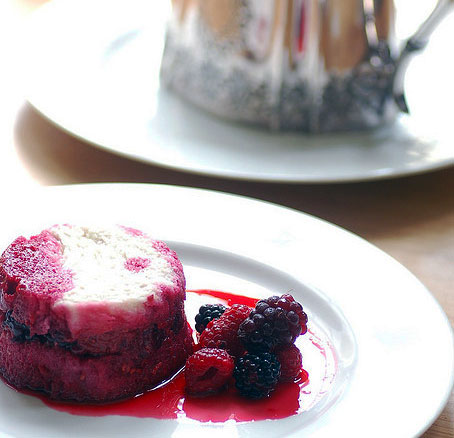 Bon appétite to summer in a pudding!
Summer Berry Pudding ( Serves 8 )
Ingredients:
1¼ cups sugar
Juice and peel of one lemon
2¼ cups water
1 lb strawberries, hulled and sliced into quarters
½ lb blackberries
½ lb blueberries
¾ lb raspberries
15-20 slices white bread, cut very thin and crusts trimmed
2 cups fresh whipped cream
Instructions:
Cook sugar, lemon juice and peel in 2¼ cups of water until dissolved, about 2 minutes.
Reduce heat to medium and add strawberries; poach for 2 minutes. Remove strawberries with a slotted spoon into a bowl.
Repeat with blueberries, blackberries and half of the raspberries, removing berry solids with a slotted spoon into the bowl with the strawberries. Reserve remaining liquid, which should be of syrup consistency.
Add the remaining fresh raspberries to the poached berry mix and mash, remove the lemon peel and cool.
Using a pastry brush, lightly coat the bottom of a 1-quart bowl with the reserved syrup.
Cut 1 slice of bread to fit the bottom, dip in the syrup and place in the bowl. Dip additional slices of bread and line the bowl, overlapping slightly.
Spoon about ⅓ of the berry mixture onto the bread slices.
Cut several more slices of bread to make an even layer over the berries; dip these slices in the syrup and place on top of berries, pressing down lightly. Repeat process twice, finishing with a double layer of bread.
Refrigerate the remaining syrup. Cover pudding with plastic wrap, place a plate on top and weigh down with a couple of cans.
Place bowl on a plate and refrigerate for 8 hours.
To serve, invert the bowl onto a platter, slice into wedges, top with whipped cream and drizzle with extra syrup!