Deliciously Healthy & Rustic Father's Day Recipes
---
This Father's Day go outside and enjoy the summer breeze while cooking up some delicious food with the fam. Creating a healthy meal has all the ingredients of togetherness. Here are a few hearty but healthy recipes from two premier getaway spas, fit to celebrate the Dads in your life.
Valdosta Grilled Trout with Olive Oil and Thyme Toasted Pecans
What Dad doesn't love grilling? Rancho La Puerta's occasional cooking workshop instructor Virginia Willis, chef and author of Bon Appétit, Y'all, shared with us her recipe for Valdosta Grilled Trout with Olive Oil and Thyme Toasted Pecans. This rustic and delicious meal will have Dad feeling like he just went fishing – better yet, go catch some trout with Dad and grill it up for dinner with this simple recipe.
Ingredients: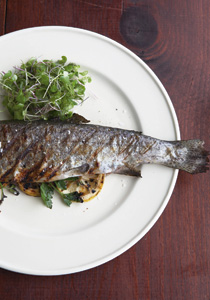 For the trout:
4 (6- to 8-oz) whole trouts, gutted
Coarse salt and freshly ground black pepper
2 lemons, very thinly sliced, plus 2 lemons, cut into wedges, for garnish
8 sprigs of thyme
8 sprigs of parsley
4 bay leaves, preferably fresh
Best-quality extra-virgin olive oil, for drizzling
For the pecans:
4 cups pecan halves
2 tsp coarse salt or sea salt
1 tsp freshly ground black pepper
1 tbsp fresh thyme leaves
3 tbsp extra-virgin olive oil
…
Get the full recipe.
*          *          *          *          *
Chili is always a delicious and welcome addition to any meal – especially cookouts, which are a great way to celebrate a summery Father's Day. While this recipe from Mii amo has a long list of ingredients, once everything is added to the pot, it requires little attention until serving time. Serve it alongside some grilled foods, along with some delicious salads and desserts – the perfect recipe for a fun and filling Father's Day!
Ingredients: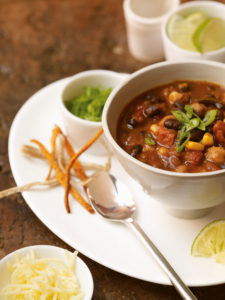 2½ cups vegetable stock, or as needed
2 tsp olive oil
1 small eggplant, chopped
¾ cup fresh or frozen corn kernels
1 small onion, chopped
⅓ cup chopped green bell pepper
3 tbsp chopped poblano chile pepper
2 tsp minced garlic
2 tsp tomato paste
1½ tbsp chopped fresh cilantro
½ tsp dried thyme
½ tsp dried oregano
1 cup drained canned diced tomatoes
…
Get the full recipe.
More Father's Day-friendly recipes to cook up for Dad:
Most recent from Recipes