Detox Nation: Teas to Cleanse, Relieve, and Balance
---
The New Year always comes with a plethora of detox juice and smoothie recipes. While we think these are great ways to cleanse and revitalize at any point in the year, the chilly temperatures that have come with winter's sporadic and largely late arrival has us craving all things warm. We decided to round up some beneficial teas that will not only help you detox from all that holiday food, but feature added benefits as well, such as improved focus or better skin. Besides being great for your health, these are simple to make and require no juicers or blenders!
Here are two teas from Kamalaya Koh Samui, Wellness Sanctuary & Holistic Spa in Koh Samui, Thailand, to help cleanse, relieve, revitalize and balance, in addition to some recommended fresh tea combos from Gwinganna Lifestyle Retreat in Queensland, Australia, that will cleanse and curb your cravings for sweets.
Kamalaya Recipe: Happy Tummy Tea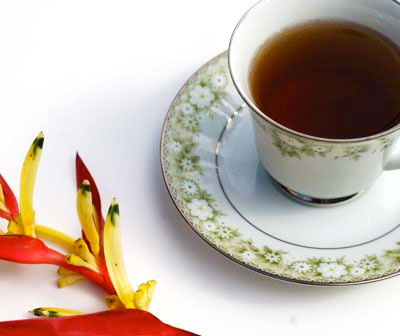 This tea is full of powerful herbs and spices loaded with antioxidants and strong anti-inflammatory properties. Great for treating digestive imbalances, it promotes the secretion of enzymes and digestive juices to stimulate digestion and relieve indigestion, nausea, gas and bloating. This tea is also mildly diuretic and supports the removal of phlegm.
2¼ cups water, boiled
½ cup ginger, peeled and grated
1⅔ tbsp cumin seeds
4 tbsp coriander seeds
1 tbsp fresh turmeric
5 tsp fennel seeds
Place all ingredients in a non-metal teapot and add the freshly boiled water. Steep for 15-20 minutes, strain and serve.
Kamalaya Recipe: Balance & Harmony Tea
Recommended for calming the mind and rejuvenating and rebalancing the nervous system, this herbal brain tonic promotes restful sleep, regenerates brain cells and nerves, promotes intelligence and memory and balances nervous disorders, including stress and depression. Said to strengthen the adrenal glands, cleanse and nourish the immune system, these herbs are also beneficial for skin health. Positive effects on the circulatory system include improving the flow of blood while strengthening veins and capillaries. Gotu kola, found in this recipe, is considered a spiritual herb used by yogis to improve meditation. It is believed to balance the right and left hemispheres of the brain and is regarded as one of the most important rejuvenating herbs in Ayurvedic medicine, according to Kamalaya. Check out Kamalaya's video above to watch Chef Kai Mueller make this tea!
Just over 2 cups water, boiled
1 oz. gotu kola, dried
2 cups spearmint, dried
1¾ oz. rose petals
3½ tbsp fennel seeds
Place all ingredients in a non-metal teapot and add the freshly boiled water. Steep for 15-20 minutes, strain and serve.
Gwinganna Tea Combinations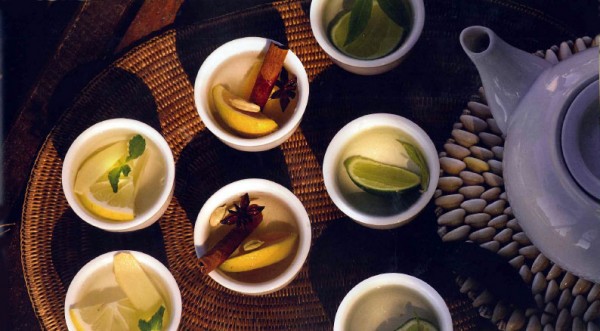 And give these simple fresh tea combinations a try as well. Subtle and delicious, the fruit and herb blends were designed by Gwinganna Lifestyle Retreat to cleanse the palate, aid in digestion and replace the desire for something sweet. Just infuse the ingredients (play around with the amount and adjust according to taste) in a teapot with boiling water and enjoy!
Lemon, ginger and mint
Orange, cinnamon and star anise
Lime, lemon and ginger
Apple, cardamom and cinnamon
Lemon myrtle and apple
Pear and mint
You might also like:
Cleanse & Renew: 7 Detox Juice & Smoothie Recipes
Healthy Cleanse, Healthy Body: 13 Detox Treatments for 2013
8 Foods to Beat Anxiety & the Winter Blues & Blahs
Top 5 Healthy Eating Apps
Products We Love: Primavera Eucalyptus Cold Therapy
Most recent from Recipes