Zesty Holiday Sweets: Two Festive Orange Zest Desserts from Golden Door
---
Thoughts of holiday sweets conjure up images of festive cookies, peppermint swirls and candy cane stripes galore. This year, we're in love with the pungent flavor and aroma of orange zest. Festive and lively, here are two delicious—and healthy—dessert recipes from Chef Dean Rucker and the renowned Golden Door.
Warm Flourless Chocolate Cake with Orange Sauce ( Serves 8 )
Using ingredients not usually found in a typical flourless chocolate cake like bananas and yam, this Warm Flourless Chocolate Cake with Orange Sauce recipe is a healthier alternative that doesn't sacrifice taste. With only about 35 minutes of prep time and 25 minutes of cooking time, you can't go wrong.
Tips from Chef Rucker: Be sure not to let any water come in contact with the chocolate as it melts; water or condensation will cause the chocolate to become grainy and unusable. When preparing this recipe, grate the orange zest for the cakes before juicing the oranges for the sauce.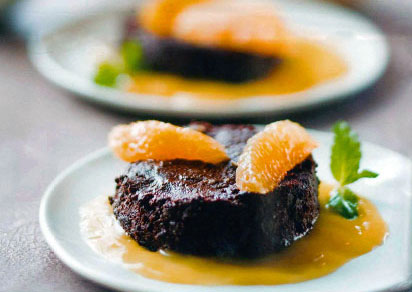 For the Cakes
8 oz. good-quality dark chocolate with 60%-70% cacao, chopped
1 large egg
2 very ripe bananas, sliced (1¼ cups)
½ cup mashed yam (1 small baked, peeled yam or canned pumpkin)
¼ cup honey
1 tbsp orange zest, grated
1 tsp vanilla extract
Pinch of kosher salt
3 large egg whites, whipped
1 orange, peeled and separated into segments for serving
Vegetable oil cooking spray
For the Sauce:
1 cup fresh orange juice (from 3 oranges)
2 tsp cornstarch
1 tbsp half-and-half
1 tbsp Grand Marnier
Instructions:
Preheat the oven to 350°F. Spray eight 4-ounce ramekins or foil cups with cooking spray until well coated and place them on a baking sheet.
To prepare the sauce, pour all but 1 tbsp of the orange juice into a small saucepan and place over low heat. In a small bowl, stir the cornstarch into the reserved 1 tbsp orange juice until smooth. When the juice comes to a simmer, whisk in cornstarch and juice slurry and continue to whisk for 30 seconds until thickened. Remove the pan from the heat and let cool for 15 minutes.
Whisk in the half-and-half and the Grand Marnier. Set aside to keep warm or chill; the sauce can be served warm, at room temperature or chilled.
Make the cakes: Place a bowl over a saucepan filed with a couple of inches of simmering water; the water should not touch the bowl. Place the chocolate in the bowl and let stand until the chocolate is shiny and completely melted (about 10 minutes). Stir with a rubber spatula until the chocolate is smooth. Remove from the heat. (Chocolate should be pre-melted and cooled before making cake batter.) Combine the egg, peeled and chopped bananas, peeled and baked yam, honey, orange zest and vanilla in a blender and process until very smooth.
Add the Warm Flourless Chocolate Cake banana mixture to the chocolate and stir together until just combined. Set aside. In another bowl, use an electric mixer to whip the egg whites and salt until they form soft peaks when the whip attachments are lifted up and out of the bowl, about 3 minutes. Carefully fold the egg whites into the chocolate mixture until just incorporated. Do not over-mix; it is fine if streaks of white remain.
Spoon the mixture into the ramekins or foil cups to about ¼ inch from the top. Bake until the tops are set when a ramekin is gently nudged and the centers are slightly puffed, 8 to 10 minutes.
Transfer the ramekins to a cooling rack. When the ramekins are cool enough to handle, run a paring knife around the edges and turn over onto eight dessert plates. The center of the cake should be nice and soft.
Drizzle the sauce around each cake and garnish with orange segments. Serve and enjoy!
Nutrition information per serving: 274 calories, 10 g fat, 5 g protein, 42 g carbohydrates, 64g fiber, 25 mg cholesterol, 96 mg sodium

Orange Almond Tuiles (Makes 18 tuiles)
We love these light, crisp cookies and the festive orange and almond additions in this recipe. Tuiles, which translates to "tiles" in French, are named so since they were usually formed into a slightly curved shape similar to ceramic roof tiles on old French houses. The delicacy of these thin cookies gives an air of fancy, but in reality, they're extremely quick and simple.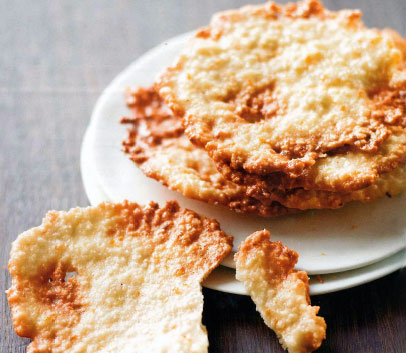 Tips from Chef Rucker: If you have a silicone baking mat, this is the time to use it, for the baked tuiles are much easier to remove from these mats. If using parchment paper, work quickly to remove the tuiles from the parchment while they are still warm.
Ingredients:
Scant 1 cup sliced almonds
2 large egg whites
⅔ cup organic confectioners' sugar
2 tsp grated orange zest
1 tsp all-purpose flour
Instructions:
Preheat oven to 375°F. Line a baking sheet with a baking mat or parchment paper.
Put almonds in the work bowl of a food processor and process until they resemble very fine bread crumbs, about 30 seconds. Transfer the nuts to a bowl and add the egg whites, confectioners' sugar, orange zest and flour. Use a rubber spatula to stir together just until combined.
Spread a heaping teaspoon of batter into a thin 3½-inch circle on the prepared cookie sheet. Continue to form tuiles, leaving 2 inches between them.
Bake until light golden brown, about 6 minutes. Use a palette knife, offset spatula or think-bladed knife to remove the cookies from the baking sheet and transfer them to the mold for shaping as indicated below. The cookies will harden quickly. If they become too hard before they are shaped, place them back in the oven for 30 seconds to soften them. They may also be served flat; transfer them directly to cooking racks to cool completely.
For a classic curved tile shape, drape them over a rolling pin to cool completely.
For a cigarette shape, flip the warm tuile upside down on the work surface in front of you and lay a clean dowel or pencil across the bottom of the cookie. Quickly roll the cookie up around the dowel. Slide the dowel out and let the cookie cool completely.
For a cup shape, flip the cookie over into a small ramekin or other small dish and gently push the warm cookie into the dish. Crimping as necessary to form a cup shape.
Stored in an airtight container at room temperature away from humidity, tuiles will stay crisp for 4 to 5 days.
Nutrition information per serving: 51 calories, 3 g fat, 2 g protein, 6 g carbohydrates, 1 g fiber, 0 mg cholesterol, 48mg sodium
Most recent from Recipes