Finding Zen in Zzz's Recipe: Tryptophan-Rich Yellowfin Tuna Burger
---
As much as the day's activities, your stress level, and other lifestyle factors affect how well you sleep at night, various foods can also help you get a good night's rest. Jennifer Ferdinand, CMT, CHHC, at Wellness Week™ participant Serendipity Wellness Studio in Fairfax, Virginia, gave us a basic breakdown of what our bodies need for restful sleep and why.
"In order to get a restful night's sleep, you must have appropriate levels of serotonin, the neurotransmitter responsible for a good mood and required for sleep," Ferdinand tells SpaFinder. "In order to produce serotonin, you need to provide your body appropriate levels of amino acids, specifically tryptophan."
Meals that are high in tryptophan and carbohydrates, and low to medium in protein will help you relax in the evening and set you up for a good night's sleep.
With the list of tryptophan-rich foods Ferdinand provided us, we thought this Yellowfin Tuna Burger recipe from Saybrook Point Inn & Spa fit the bill perfectly. Encrusted with sesame seeds and served with wasabi mayonnaise and seaweed salad, this unique burger is full of tryptophan-rich foods! Be sure to use a whole-grain roll and purchase U.S. troll-caught, pole-caught or handline-caught yellowfin tuna – these are environmentally friendly fishing techniques, making it a "Best Choice" in Monterey Bay Aquarium's Seafood Watch List! To learn more about choosing seafood wisely, visit Monterey Bay Aquarium's Seafood Watch section.
Yellowfin Tuna Burger Ingredients (Serves 6):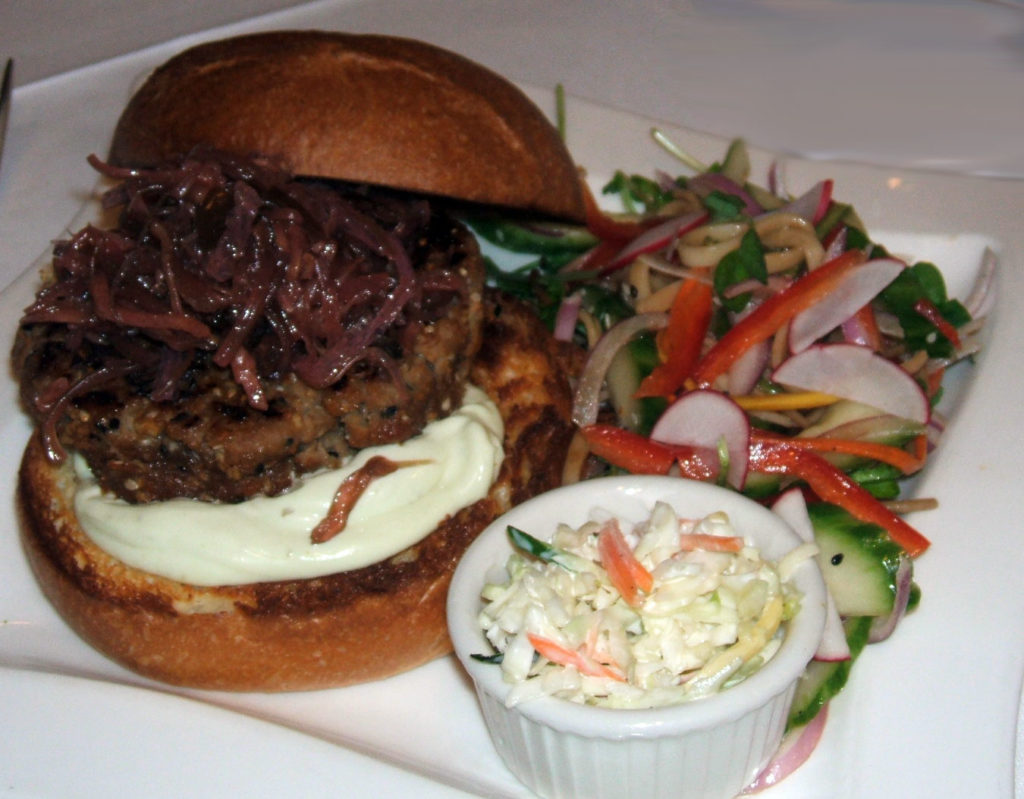 2 lbs ground yellowfin tuna loin
3¼ tsp toasted white sesame seeds
3¼ tsp toasted black sesame seeds
3¼ tsp soy sauce
3¼ tsp sesame seed oil
6½ tsp minced pickled ginger
4 tbsp sweet soy sauce
¾ cup Panko breadcrumbs
Salt and pepper to taste
1 tbsp olive oil
6 whole grain rolls, toasted
Wasabi Mayonnaise Ingredients:
1¼ tsp wasabi powder
⅜ tsp water
¾ cup light mayonnaise
Instructions:
1.      Preheat oven to 350 degrees F.
2.      In a large mixing bowl, combine and thoroughly mix all ingredients.
3.      Divide the mixture to form 6 burger patties (6 oz. each).
4.      Heat oil in a non-stick pan over medium heat and sear the patties, until golden brown. Carefully flip the patties and cook the other side for 5 minutes.
5.      Finish baking in the oven until golden brown, or to desired doneness; medium rare is suggested.
6.      For the Wasabi Mayonnaise: Thoroughly mix wasabi powder and water to form a paste, then whip in mayonnaise.
7.      Assemble the burger and add some seaweed salad if you'd like, or have it on the side – seaweed is full of tryptophan, too!
Here's a list of foods Ferdinand tells us are high in the amino acid, tryptophan:
Beans                                                     Sunflower seeds                                           Kelp
Whole grains                                         Sesame seeds                                             Red meats
Lentils                                                     Miso                                                                 Roasted pumpkin seeds
Chickpeas                                              Dairy products from grass fed cows         Shellfish
Hazelnuts                                               Baked potatoes, skin on                              Tuna
Peanuts                                                  Bananas                                                         Turkey
Eggs from pastured chickens            Fish
And, be sure to sign up for news and updates to find out what Wellness Week™ offers both Saybrook Point Inn & Spa and Serendipity Wellness Studio will feature from March 21-27!
Most recent from Recipes