Fire up the Grill: 3 Healthy Summer Recipes
Published: Saturday, July 11th 2015
in Recipes
---
Summertime calls for stepping out of the kitchen and outside for a little grill action. These three recipes pack in vitamins, nutrients, and lots of refreshing summer flavors!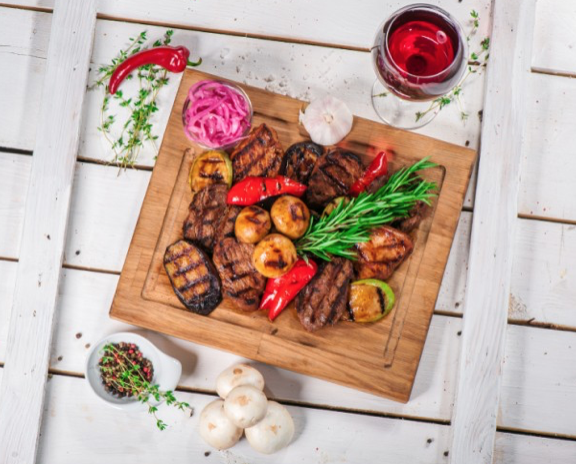 Yellow Fin Tuna with Mango-Papaya Relish
What you'll need:
4, 3-4 ounce Yellow Tuna Steaks
1 teaspoon coriander, ground
Olive oil
Salt
White pepper
For the relish:
1 large mango
2 tablespoons lemon juice
1 large papaya
1 tablespoon fresh, cilantro minced
Salt
White pepper
What you'll do:
1. Peel and pit mango and cut into a small dice. Peel and seed the papaya and cut into small dice. Puree half the mango and the papaya in a food processor. Transfer puree to a medium bowl. Add remaining mango and papaya, lemon juice, and cilantro; toss to combine. Season with salt and pepper; set aside.
2. Heat the grill. Rub tuna steaks with oil, then sprinkle with coriander, salt, and pepper. Grill tuna steaks, turning once, until opaque throughout. Serve each steak with the relish on the side.
Grilled Eggplant with Feta Cheese
What you'll need:
3 tablespoon extra-virgin olive oil
1 tablespoon fresh oregano leaves, chopped
2 medium eggplants
½ teaspoon salt and a couple of extra pinches
¼ teaspoon freshly ground pepper
¼ cup crumbled feta cheese
1 medium tomato, diced
What you'll do:

1. Cut eggplant lengthwise and sprinkle each half with a ¼ teaspoon salt. Next, cut into ½ inch thick slices.
2. In a bowl, combine 2 tablespoons olive oil, feta cheese, tomatoes, oregano and rest of salt.
3. Brush eggplant with olive oil and add pepper.
4. Place the eggplant on a hot grill, cover and let cook for 5 minutes before turning over. Cook for another 3 to 4 minutes or until tender and/or browned.
5. Transfer eggplant to a platter and cover with feta cheese mixture.
Grilled Salmon Steaks with Savory Blueberry Sauce
What you'll need:
3/4 cup chicken stock
¼ cup balsamic vinegar
¼ cup orange juice
1 teaspoon honey
1 tablespoon cornstarch
¼ cup chicken stock
1 cup fresh blueberries
2 teaspoons chopped fresh chives
4 (6 ounce) salmon steaks
2 tablespoons olive oil
Salt and pepper to taste
What you'll do:

1. Pour 1/2 cup chicken stock, vinegar, orange juice, and honey in a small pot and bring to a boil over high heat, then reduce heat to medium. Dissolve cornstarch in 1/4 cup of chicken stock, and stir into the simmering sauce.
2. Cook and stir until the sauce thickens and turns clear, 1 to 2 minutes. Stir in the blueberries and chives, and keep warm over low heat.
3. On Your grill, preheat to medium high-heat. Brush salmon with oil, and season to your liking with salt and pepper. Grill until the fish flakes easily with a fork, about 3 to 4 minutes per side. Serve with blueberry sauce.
Most recent from Recipes