Fresh Fruit Sorbet Recipe from Rancho La Puerta
Published: Monday, August 3rd 2015
in Recipes
---
Rancho La Puerta knows that eating healthy doesn't have to taste like dieting and that the hot summertime temps call for refreshingly cool treats! One such treat is this fresh fruit sorbet recipe, straight from the Ranch! While these sorbet flavors are made using ripe plums, blackberries, and peaches, you can use nearly any fresh summer fruit for a delicious variation.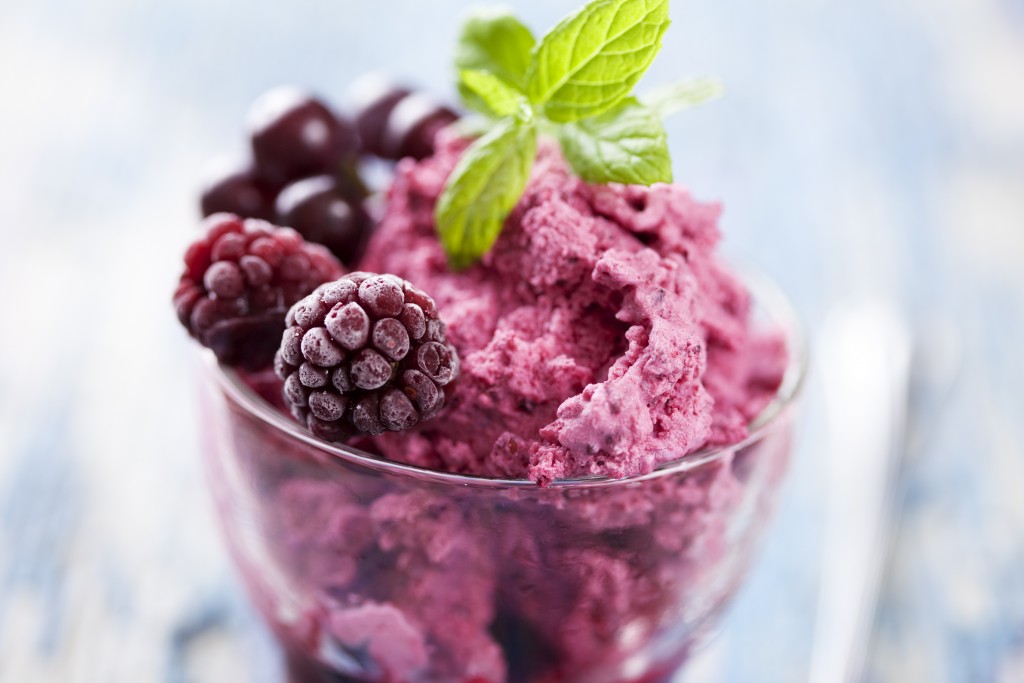 Trio of Blackberry, Plum, and Peach Sorbets
Serves 6
What you'll need:
2 cups ripe plums, pitted and chopped
2 cups ripe peaches (or nectarines) peeled, pitted, and chopped
2 cups ripe blackberries, rinsed, dried, and picked over
½ cup agave or maple syrup, or packed brown sugar
Optional additions include:
Edible flowers
Herb sprigs
Fresh berries
Morsels of fruit
Lemongrass stalks
What you'll do:
1. Wash the plums. Cut in half and remove the pits, then cut the fruit into small pieces.
2. Skin the peaches by pouring boiling water over them for 10 seconds. Cool, then remove the skin with a sharp knife. Cut in half and remove the stones, then cut the fruit into small pieces.
3. Quickly rinse, dry, and pick over the blackberries.
4. Place each fruit in a separate plastic bag and freeze overnight.
5. In the bowl of a food processor, puree each fruit separately until perfectly smooth, adding a couple of tablespoons of syrup or more if the fruit is tart, rinsing the bowl in between.
6. As you finish each puree, pack it into a small container, cover, and freeze for at least 1 hour. If the sorbet becomes very hard, let the container stand at room temperature to soften for 10 minutes.
7. Serve a small scoop of each sorbet in a chilled dessert bowl with one or more of the garnishes, if desired.
Does this taste of Rancho La Puerta whet your appetite for more? Take a virtual vacation to Mexico's beloved destination spa right now by scrolling through some of the property's gorgeous photos on spafinder.com. Click here to virtually visit the Ranch now!
Most recent from Recipes