Fresh Fruit & Veggie Month: Go-To Recipes For All Summer Long!
Published: Monday, June 23rd 2014
in Recipes
---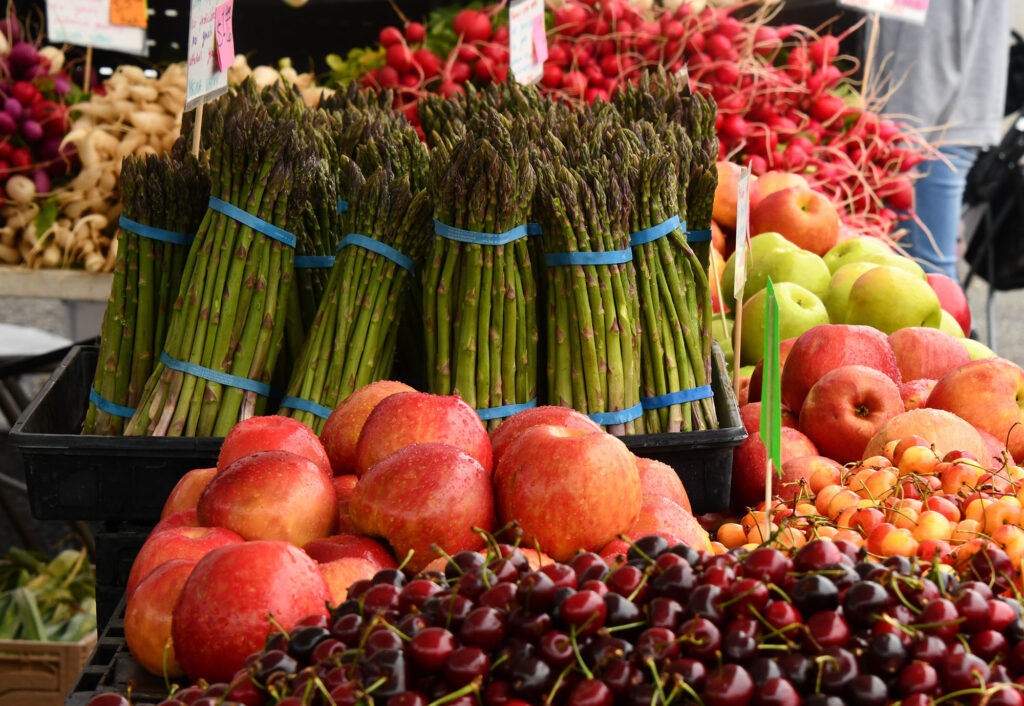 In honor of Fresh Fruits & Vegetable Month we wanted to share our fave recipes for chowing down produce-aisle-style! So from sweet summer salads and green juices for getting beach-body ready to fruity guilt-free desserts and mouth-watering veggie apps – here are our picks for recipes you have to try this month (and all summer long!).
Strawberry Summer Salad
This is an easy summer salad that is perfect for lunchtime, one batch is lunch for a whole workweek! It blends savory and sweet and is my number one go-to during the summer months!
What You'll Need
2 cups sliced strawberries
4 cups baby spinach
4 large tomatoes, quartered
2 cups mushrooms
½ red onion, diced
½ cup feta cheese (optional)
¼ cup olive oil
salt and pepper to taste
1 teaspoon lemon juice
1 teaspoon honey
1. Place strawberries, spinach, tomatoes, mushrooms, onion, and feta in a large salad bowl. Toss.
2. In a small bowl mix together the olive oil, lemon juice, honey, salt, and pepper. Pour dressing over salad and toss once more.
Store in the fridge for up to 5 days
Black Bean and Coconut Salad from Shane Diet Weight Loss and Fitness Resorts
Makes 6 servings
Registered Dietitian, Amber Ketchum shares that "the beans in this recipe make for a good source or protein, iron, and complex, slow-digesting carbohydrates, making it great diabetic-friendly dish. This salad is a beautiful accompaniment to grilled salmon and a side salad."
What You'll Need
16 ounce can black beans, rinsed and drained
¼ cup unsweetened coconut flakes
¼ cup chopped green onion
1 tablespoon finely chopped cilantro
1 finely chopped jalapeno, seeded
¼ tsp ground cumin
¼ cup apple cider vinegar
1 tablespoon lime juice
2 tablespoons extra virgin olive oil
Pepper to taste
1. Combine all ingredients and refrigerate until ready to serve.
Adapted from Bal's Quick and Healthy Indian
Approx Nutrition info (makes about 6 servings, ½ cup each): 117 Calories | 4.7g fat | 160mg sodium | 7g protein | 13g carbohydrate | 7g fiber | 2g sugar
Detox Smoothie: Green Tangerine Dream from The Oaks at Ojai
What You'll Need
1 celery rib
3-4″ section of European cucumber
½ peeled lemon
1 large handful of spinach
4 tangerines, peeled
1-2 tablespoons fresh ginger root
¾ cup water
20 green grapes
2 tablespoons mint
2 tablespoons chia seed (optional)
Blend ingredients in a juicer or power blender and enjoy!
Jewel of Fruit Pie from Pritikin Longevity Center & Spa
Serves 12, Serving size: 1 slice (about 6 ounces)
What You'll Need
3 cups low-sodium, low-sugar, whole-grain corn flakes, such as Grainfields
2 bananas, sliced crosswise
2 pints strawberries, sliced
3 Granny Smith apples, peeled and sliced medium thin
1 teaspoon vanilla extract
1 pinch cinnamon
¼ cup date sugar
1 pinch nutmeg
¼ cup water
1. Preheat oven to 350 degrees.
2. Grind 2 cups of the corn flakes in food processor. Lay on bottom of 9" x 9" Pyrex baking pan and bake for 2 minutes. Let cool.
3. Grind remaining cup of corn flakes. Mix it with remaining ingredients.
4. Pour mixture very gently over crust and bake for 30 minutes at 350 degrees. Cool and serve.
You might also like: