Get Fresh with a Wild Catch: Alaskan Halibut with Shoestring Vegetables
---
Along with warmer weather comes the urge to eat lighter and more refreshing meals. This simple yet tasty recipe by Executive Chef Brian Scheehser from Penterra Spa at The Heathman Hotel in Kirkland, Washington (just about 20 minutes east of Seattle), fits the bill with ocean-friendly Alaskan Halibut, fresh vegetables and a refreshing lemon-herb dressing.
When purchasing your Alaskan Halibut, a Best Choice on the Monterey Bay Aquarium Seafood Watch List, make sure it's wild caught. Good alternatives include hook-and-line-caught Chicken Halibut, Monterey Halibut, Southern Halibut, Hirame or Greenland Halibut, but avoid wild-caught Atlantic Halibut (also sometimes called Hirame, but instead of being from the Pacific Ocean, it comes from the Atlantic).
And as summer approaches, try grilling your halibut – about 5 minutes on each side will do it; the filets should be browned and easily flaked with a fork when they're done.
Fresh Wild Alaskan Halibut with Shoestring Vegetables & Lemon-Herb Vinaigrette (Serves 4)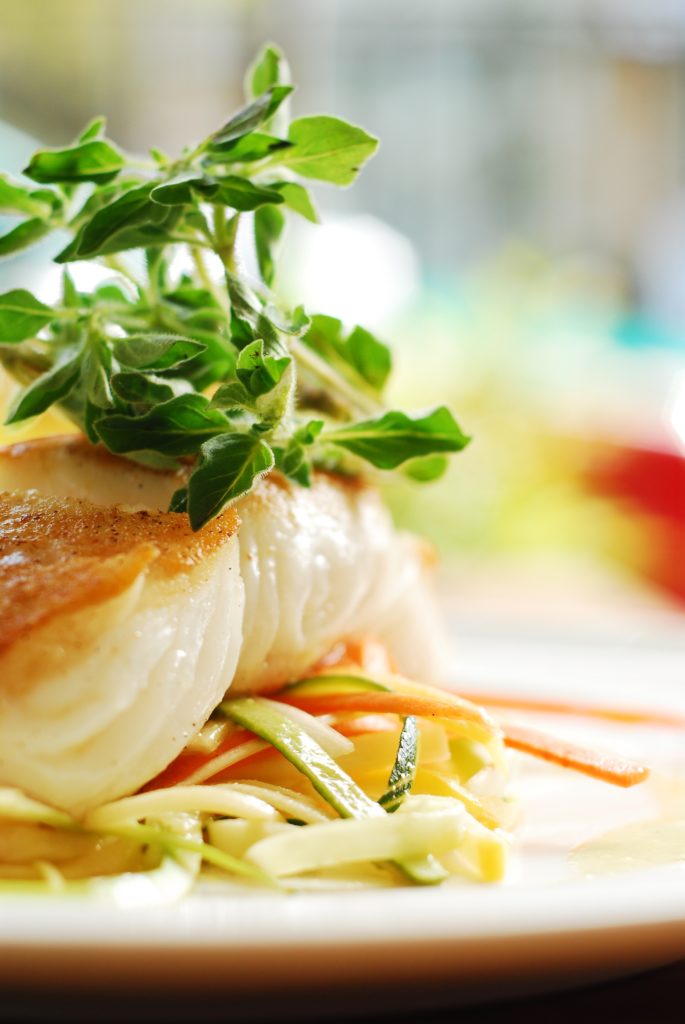 Ingredients:
4 6-oz. pieces fresh Alaskan Halibut filets
1 tsp olive oil for searing
3 stalks celery, julienned
3 carrots, julienned
3 leeks, julienned
Lemon-herb vinaigrette (recipe below)
For the Lemon-Herb Vinaigrette:
3 tbsp chiffonade fresh basil
3 tbsp chopped parsley
4 tsp lemon juice
¼ cup extra virgin olive oil
2 tsp capers
1 medium shallot peeled small dice
Salt and pepper to taste
Instructions:
1.  In a small bowl, whisk lemon juice, olive oil, shallots, capers, basil and parsley. Season to taste with salt and pepper. Reserve at room temperature.
2.  Heat 1 tsp olive oil in a large sauté pan over medium-high heat. Take caution not to splash oil when putting halibut in pan. Sear 2-3 minutes on each side until golden brown.
3.  Blanch the julienned vegetables and serve at room temperature as a bed for the halibut.
4.  Place halibut on top of vegetables; drizzle dressing over the top of the halibut. Dust with fine salt and black pepper before serving.
About Executive Chef Brian Scheehser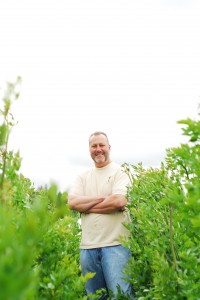 Rooted in the simplicity of country Italian and French cooking and influenced by his knowledge of cutting-edge Northwest and West Coast cookery, Chef Scheehser leads a celebration of small-scale, farm-to-table products at Trellis, the Heathman Hotel-Kirkland's restaurant and bar.
The menus at Trellis are inspired by what Chef Scheehser selects from the region's bounty, particularly from the fresh produce hand-tended on his 10-acre plot at the South 47th Farm in nearby Woodinville. An avid gardener, Chef Scheehser lays a table of food and drink that reflects a true appreciation for fresh regional ingredients at the height of their seasonality.
"Immersing myself in the earth has given me a unique understanding of a food's inherent flavor and texture," says Chef Scheesher. "The growing process amazes me, and I enjoy the art of coaxing out the earthy, natural attributes of fresh produce using the simplest culinary techniques." To date, Chef Scheehser has harvested 30 varieties of heirloom tomatoes, 10 varieties of winter squash, beets, lettuces, cabbages, broccoli, Brussels sprouts, cauliflower, carrots, celery roots, leeks, corn, pumpkins, potatoes, sweet peas and beans.
Most recent from Recipes