Golden Door's Watercress, Strawberry & Goat Cheese Salad Recipe
---
Perfectly pretty and simple yet full of flavor, this summer salad from Golden Door in Escondido, California, is as tasty as it is eye-catching. A little crunchy spice from the peppery watercress, sweet juiciness from the strawberries, and soft creamy goodness from the goat cheese, this salad offers a balance of taste elements that combine to create a well-rounded salad.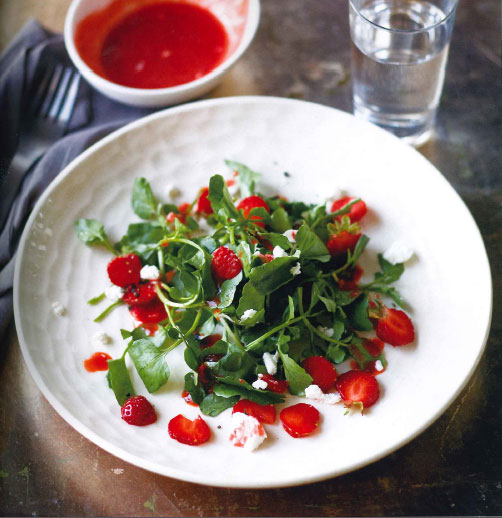 We love the balsamic strawberry dressing, which strays from the conventional balsamic vinaigrette we usually see for a salad like this. Great for picnics and summer dinner parties, this salad is sure to be a hit. Feel free to add some blueberries to the mix to make it a festive salad for the Fourth of July! Also, watercress can easily be substituted for arugula, another peppery green.
"Red wine vinegar is assertive and winey while white balsamic vinegar is mlder and sweeter; either is very good in this recipe – choose your vinegar according to which quality you prefer or which vinegar you have in your pantry," Canyon Ranch says. "Regular balsamic would also be tasty, but will significantly affect the color of the final dish. Whichever vinegar you use, if the strawberries are extremely sweet, you may want to use the greater amount called for below."
Watercress, Strawberry and Goat Cheese Salad (Serves 4)
Ingredients:
1½ pints (12 oz) fresh strawberries, sliced (2 cups)
1½ tsp minced shallot
1½ tsp-1 tbsp red wine vinegar or white balsamic vinegar
2 tbsp extra-virgin olive oil
⅛ tsp freshly ground pepper
4 cups watercress, whole leaves and tender stems (about 1 bunch)
1 oz. fresh or aged goat cheese, crumbled (¼ cup)
Instructions:
For the dressing:
1. Combine half of the sliced strawberries and 2 tbsp water in a blender. Blend until just pureed, stopping the blender if necessary to push the strawberries down with a spoon a few times. Strain the puree through a mesh strainer set over a medium bowl to remove the seeds.
2. Add the shallot and vinegar to the strawberry puree and whisk to blend.
3. Whisking constantly, drizzle in the olive oil and continue whisking until well combined. Season with salt and pepper. You may prepare the dressing and store it, covered, in the refrigerator for up to 3 or 4 days.
To serve:
4. Arrange 1 cup of watercress on each of four salad plates. Scatter the remaining 1 cup sliced strawberries over the salads. Drizzle 2 tbsp dressing over each salad. Scatter the goat cheese over each salad and serve.
Most recent from Recipes