Grail Springs Recipe: Three Sisters Soup – An Inspiring Tale
---
We love the story of the three sisters, which Grail Springs Health Spa and Wellness Center of Bancroft, Ontario, recently shared in its newsletter. Perfectly fitting for the holiday season, the story of the three sisters personifies corn, beans and squash in an inspiring way. The story goes something like this, according to Grail Springs:

The three sisters of Native American cuisine are the spirits of corn (maize), beans and squash. Because they would all be planted in one mound, they were seen as "three sisters," a term that dates back to the 19th century and was first applied by the Iroquois tribe in the Northeast. Why one mound? The corn stalk gives something for the beans to climb on, while the beans take nitrogen from the air and put it in the ground for the corn and squash to grow large and healthy. The corn and the beans also provide shade for the squash, which grows around the mound to prevent weeds, while preserving moisture for all three of them. With all three working together, the three sisters can be more and do more than they could by just themselves, which Grail Springs says is a great lesson for all of us: "We can always do more by helping each other and living in the spirit of collaboration and cooperation."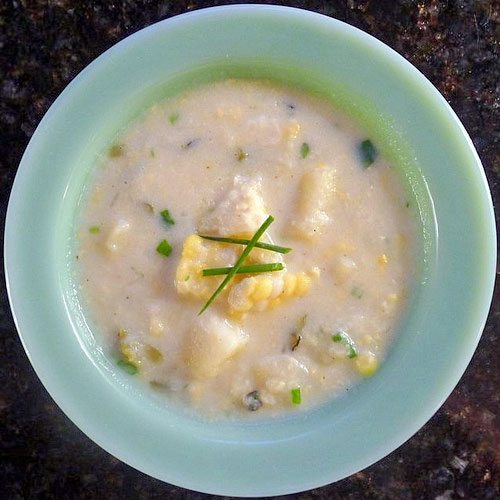 Here is Grail Springs' Three Sisters Soup recipe. Make a big pot and enjoy with loved ones, or, this could make a great holiday treat as well – jar some of the soup with a cute little tag featuring the recipe on one side and the story of the three sisters on the other to feed the recipient's mind, body and soul.
Ingredients:
6 cups of organic vegetable broth
2 cups of yellow corn kernels
1 cup of fresh green/yellow beans chopped
1 cup of pinto beans
1½ cups of butternut/buttercup squash cubed
2 bay leaves
Salt and pepper to taste (Himalayan Salt recommended)
Instructions:
Combine all of the above ingredients and simmer for 1.5 hours. A couple of hot peppers thrown in while it is cooking will add zing to the soup.
This is one of those dishes where you can be creative with the spices, so add your soup favorites; sautéed onion and garlic, basil, rosemary and sage. Add the spices in the last ½ hour of cooking. (The simmering combines the flavors so they complement each other like sisters do.)
Serve hot with any crusty whole grain or flat bread.
Most recent from Recipes