Miraval's Black Rice and Edamame Bean Salad
---
September is Whole Grains Month, so get your black rice fix with this delicious, Asian-inspired salad recipe from Tucson, Arizona-based Miraval Resort & Spa's cookbook, Mindful Eating. Known as forbidden rice, black rice is a sort of superman of super foods. Rich in both phytonutrients and antioxidants, it also has more health-promoting anthocyanin antioxidants gram per gram than blueberries, and delivers them packaged with less sugar and more fiber.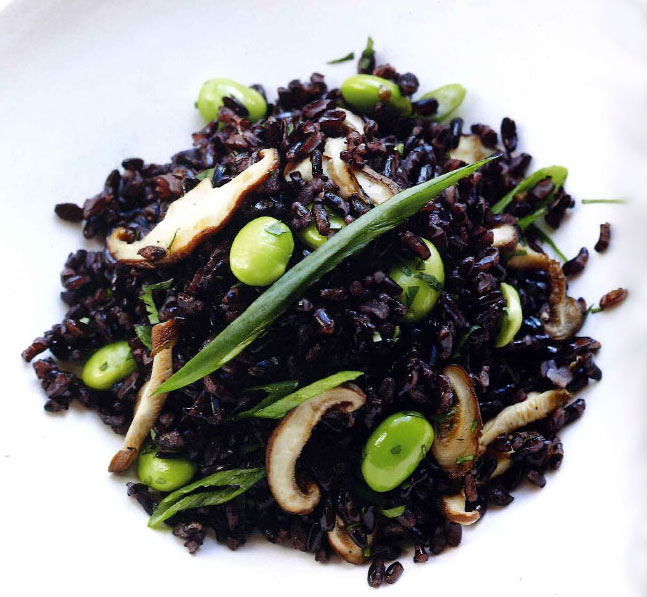 It's also been suggested that black rice could be a "useful therapeutic agent for the treatment and prevention of diseases associated with chronic inflammation." Researchers at Ajou University in Suwon, South Korea, tested both black rice bran and brown rice bran for their effectiveness in protecting against skin inflammation. In tests with mice, it was found that the black rice bran did suppress dermatitis, but the brown rice bran did not.  Another study from Cornell University compared black rice with brown rice and found that antioxidants were about six times higher in black rice than in common brown or white rice.
This tasty recipe offers yet another reason to try black rice if you haven't already. To achieve the best results, Miraval suggests precisely measuring the water when cooking the rice, and using a large pot instead of a medium one so that it cooks evenly and retains its crunch.
Black Rice and Edamame Bean Salad (Makes 4 half-cup servings)
Ingredients:
3½ cups water
¼ tsp kosher salt
2 cups black rice
1 cup fresh or thawed frozen edamame beans
½ tsp Miraval Oil Blend (see below)
1 cup thinly sliced shiitake mushrooms
Pinch of freshly ground black pepper
½ cup roughly chopped fresh cilantro
¼ cup low-sodium soy sauce
2 tbsp rice wine vinegar
1 tbsp agave syrup or honey
1½ tsp sesame oil
For the Miraval Oil Blend (Makes 1 cup):
¾ cup canola oil
¼ cup cold-pressed extra-virgin olive oil
Instructions:
Place the water and salt in a large pot and bring to a boil. Add the rice, cover and cook uncovered until the liquid is absorbed and the rice is just tender but still al dente, 20 minutes. Drain well in a fine mesh strainer and rinse under cold running water until the water runs clear and the rice is cooled, 1 to 2 minutes. Drain well.
Bring a small pot of lightly salted water to a boil. Add the beans and lightly blanch, 1 minute. Drain the beans well, reserving 2 tbsp of the cooking water and rinse the beans under cold running water. Drain the beans well, transfer to a large bowl and set aside.
To make the Miraval Oil Blend, combine in a small bowl, or spray bottle or mister to store for future use.
Heat a medium skillet over medium-high heat. Add the oil, mushrooms and pepper; stir well to combine and cook for 30 seconds. Add the reserved cooking water and cook until the mushrooms start to wilt but retain their shape, 1 to 2 minutes. Place the mushrooms in the bowl with the beans and add the drained rice, green onions and cilantro.
To make the dressing, whisk together the soy sauce, rice wine vinegar, agave syrup and sesame oil in a small bowl.
Add the dressing to the rice mixture, and stir well to combine. Serve immediately.
Nutritional information per serving for salad: 200 calories | 3.5 g fat | 40 g carbohydrate | 4 g dietary fiber | 7 g protein
Nutritional information per serving for Miraval Blend Oil: 144 calories | 17.5 g fat | 0 g carbohydrate | 0 g dietary fiber | 0 g protein
You might also be interested in:
Find Your Inner Calm: 7 Ayurvedic Foods for Stress
Phyto-Full Forbidden Rice Salad
Sanoviv's Stuffed Zucchini Recipe
5 Foods to Boost Metabolism
Green Mountain at Fox Run Recipe: Orzo Summer Salad
Chilled Asparagus Salad from Sundara
Most recent from Recipes