Green Mountain at Fox Run Recipe: Baked Apples with Fresh Figs and Vermont Maple Syrup
---
Tasty and beautiful, we can't get enough figs! While I love the change of seasons from summer to fall, figs, which are in season now, just make that transition so much more comforting and rewarding. This simple and easy recipe from Green Mountain at Fox Run in Vermont highlights the flavors of the spa's native Northeast with not only apples and figs, but maple syrup as well.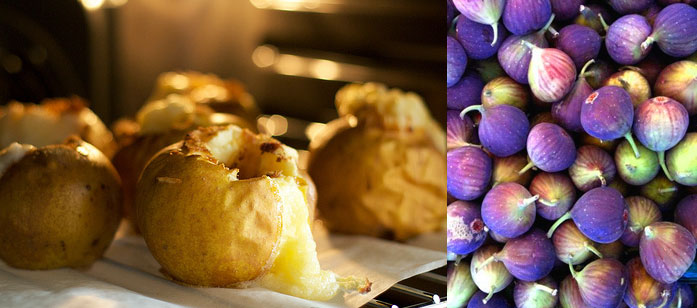 Rich in fiber, potassium and manganese, a single fig (about 2 1/2-inches in diameter) has only about 50 calories. They're also a fruit source of calcium. And as far as apples go, the saying about an apple a day keeping the doctor away may actually hold some weight. According to a study conducted earlier this year by Florida State University, the 160 women studied, ages 45-65, ate dried apples every day for one year and by 6 months, they experienced a 23 percent decrease in LDL cholesterol, a.k.a. bad cholesterol.
So stock up on apples at the orchard this fall and get to it. Speedy to prepare with little clean-up needed, this recipe can be made in the microwave in less than 10 minutes (ssshh, we won't tell if you won't)! Or, if you have a little more time to spare, try the conventional oven method. Either way, snag up the last of the figs for the season, look forward to a plethora of apples, and warm up to fall with this delicious recipe.
Baked Apples with Fresh Figs and Vermont Maple Syrup (Serves 4)
4 crisp, tart apples
2 tablespoons Vermont maple syrup
1 ripe fresh fig
1/4 teaspoon cinnamon
1 tablespoon chopped pecans (optional)
Vanilla yogurt or light whipped cream (optional)
Microwave method:
Core apples and pare a 1-inch strip of skin around the top or middle. This helps prevent the skin from splitting.
Peel and chop the fig and combine with syrup and cinnamon. Fill each apple with small amount of fig mixture.
Place apples in a glass pie plate or other flat microwave-proof dish. Microwave on high for about 6-7 minutes, or until the apples are soft when pierced with a fork.
Serve warm or at room temperature. For an added treat top with a dollop of vanilla yogurt or light whipped cream.
Note: If you make ahead and want to serve warm, reheat in the microwave-about 30 seconds per apple.
Conventional oven method:
Heat oven to 375°F.
Pour about ¼-inch of water into baking dish.
Bake about 35 minutes or until apples are tender when pierced with fork.
Check out these other Vermont-area spas, too!
Most recent from Recipes