Green Valley Spa's Soba Noodle Salad Recipe
---
With a culinary philosophy based on the belief that food should not only taste great but be good for you too, Green Valley Spa in southwestern Utah uses only traceable high-quality ingredients, usually from local farmers and producers.
Green Valley's knowledge of the fact that freshly harvested and prepared foods provide nutrient-rich fuel for the body, as well as savory satisfaction for the soul, ensures that the spa's guests not only feel better, lose more weight, and have more energy, but that they're not left wanting more, feeling deprived of calories and taste.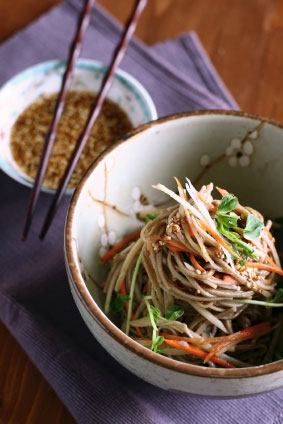 Soba Noodle Salad Ingredients (Serves 12)
Ingredients:
½ cup apple juice, frozen concentrate
½ cup rice vinegar
1 tsp ginger root, peeled and minced
1 pinch cayenne pepper
⅛ tsp black pepper, freshly ground
½ tbsp sesame seeds
1 clove garlic, minced
8 oz. soba noodles
¼ cup almonds, slivered
½ cup red bell pepper, julienned
½ cup water chestnuts, sliced
1 head napa cabbage, shredded
½ cup green onions, chopped
½ cup celery, julienned
Instructions:
1. For the dressing: mix together apple juice, rice vinegar, ginger, cayenne pepper, black pepper sesame seeds, and garlic and set aside.
2.      Cook noodles according to package instructions. Drain and transfer noodles to a large bowl. Roast almonds in baking dish sprayed with non-stick cooking spray at 400°F, tossing frequently, about every 3 minutes.
3.      Put cabbage, water chestnuts, onion, celery, red bell peppers and almonds in a bowl with noodles and pour dressing over. Toss and refrigerate.
Chef's tip: Do not overcook the soba noodles – they will break up.
Nutritional information per serving: 108 calories; 2g fat (13% calories from fat); 4g protein; 22 g carbohydrate; 0 mg cholesterol; 158 mg sodium
Most recent from Recipes