Gwinganna Lifestyle Retreat Recipe: Herb Scones with Beetroot Jam and Cashew Nut Cheese
---
This recipe from Gwinganna Lifestyle Retreat in Queensland, Australia, had us at "herb scones." Then, we continued to read on and it just kept getting better!  It's still beet season and after being introduced to cashew nut cheese just a few months ago, we can't get enough.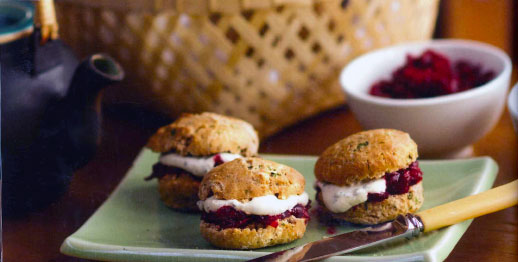 Created to inspire optimal wellbeing, this recipe is packed with nutrients and was developed with a purpose; the liver cleansing properties of beets coupled with the gluten-free flours make these scones a perfect addition to your afternoon snack routine while being gentle on the digestive system.
These herb scones are served during what the retreat calls, Afternoon Dreamtime, which is the time of day dedicated to meditation, rest, nurturing spa treatments, sitting by the pool, reading a book or retreating to the privacy of your room for a nap. Sounds like perfection, doesn't it? Give this delicious and healthy recipe a try and savor them during an Afternoon Dreamtime of your own.
Herb Scones with Beetroot Jam and Cashew Nut Cheese (Serves 15)
For the Scones:
4 cups gluten-free flours (⅓ each chickpea, rice & millet)
2 tsp baking soda
1 cup rice milk
½ tsp sea salt
Pinch of nutmeg
2 tbsp olive oil
Juice & zest of ½ lemon
8 springs parsley, basil & thyme
Dill or lemon myrtle, chopped
Sift flours and baking soda together. Add oil, lemon, herbs and milk, then mix together.
Flatten mix on a flour dusted board to 2.5 cm thick, cut into rounds with a scone cutter (approximately 5 cm in diameter).
Glaze the top of the scones with some rice milk and bake at 356°F until golden brown, about 12-15 minutes.

For the Beetroot Jam:
1 large onion, sliced
1 large beetroot, grated or shredded
1 medium chili, chopped
2 tbsp honey or maple syrup
½ cup apple cider vinegar
Pinch of sea salt & pepper
1 bay leaf
1 tsp caraway seeds
Cook all ingredients on a low heat until a glossy jam consistency is reached, adding a little water if necessary.
Cool and store in refrigerator.
For the Cashew Nut Cheese:
1 ½ cups raw cashew nuts
1 liter filtered water
Sea salt
1 cup unsweetened rice milk
½ tbsp caraway seeds
2 sprigs basil or parsley
Juice of ½ lemon
Boil the cashews for 15 minutes on low heat, changing the water once, then blend in food processor until a creamy cottage cheese texture.
Season with sea salt, caraway seeds and some lemon.


About Gwinganna Lifestyle Retreat Cuisine
Gwinganna Lifestyle Retreat in Queensland, Australia, offers guests nutritionally balanced organic seafood, meat, and vegetarian options, dependent on the program they're there for. The retreat's food philosophy is based around the belief that Mother Nature knows best. All food served is considered "low human intervention food," where the food has undergone no or minimal changes from its place in nature to the plate.
Most recent from Recipes