Healthy Thanksgiving Meal Swap Outs—We Promise, They're Delicious!
Published: Thursday, November 19th 2015
in Recipes
---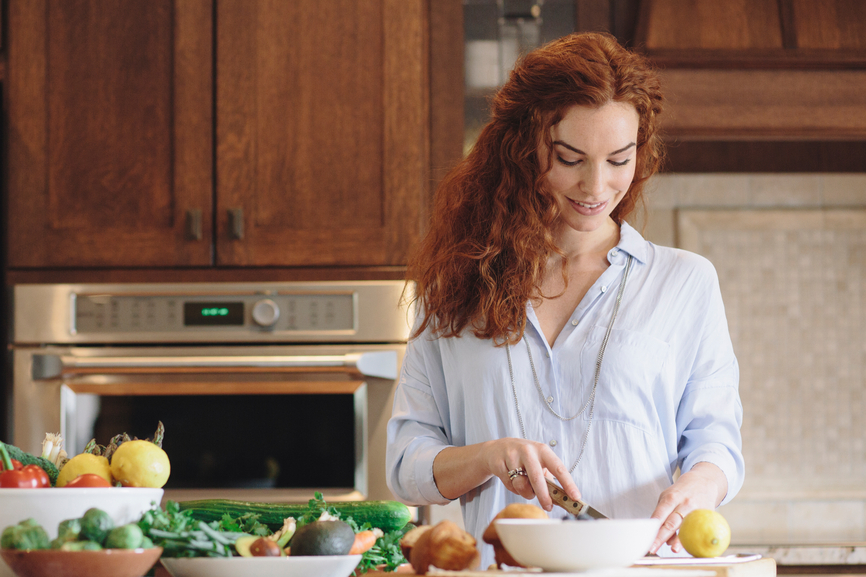 We wait 364 days a year for it—a day totally devoted to, among giving thanks of course, the art of eating. But while a Thanksgiving meal with all of the trimmings—turkey, stuffing, cranberry sauce, pumpkin pie…where was I going with this?…oh right, so while a Thanksgiving dinner with all the trimmings may make your mouth water, mind happy and belly full, it can also mean bad news on your scale. Since the last thing you'd want to do is jump on the treadmill following dinner, try these fresh and healthy Thanksgiving meal alternatives from Food Matters NYC founder Tricia Williams.
Tricia Williams' Healthy Thanksgiving Meal "Swap Outs"
Swap traditional roasted turkey with skin & breadcrumb stuffing for: Sage-roasted turkey breast
Swap sweet potato, brown sugar & marshmallow casserole for: Roasted sweet potatoes with maple cider vinaigrette, kale, pomegranate & chia seeds
Swap mashed potatoes & gravy for: Quinoa salad with roasted parsnips, butternut squash & pine nuts
Swap canned, jellied cranberry for: Orange cranberry relish
Swap pecan pie, shortbread or cheesecake for: Gingerbread cupcakes with apple kudzu paleo bread pudding
Swap pumpkin pie made with heavy, condensed milk for: Pumpkin & coconut milk pie
As well, Tricia shares a couple of her healthy Thanksgiving recipes:
Fall Harvest Salad with Maple Mustard Dressing (Serves 4)
Ingredients:
1 medium butternut squash
1 tbsp coconut oil
Sea salt to taste
2 cups packed shredded curly kale
½ cup soft cooked diced red onion
¾ cups pomegranate seeds
3 tbsp chia seeds
For Maple Mustard Dressing
2 tbsp olive oil
1 tsp apple cider vinegar
Pinch sea salt
1 tsp pure maple syrup
1 tsp Dijon mustard
Instructions:
1. Preheat oven to 400°F. Peel the squash, cut it in half lengthwise and scoop out the seeds. Cut into cubes. Toss with oil and sea salt. Place on a parchment-lined baking sheet. Roast until fork-tender, not mushy (approx. 30-40 minutes).
2. Shred the kale by slicing it in very thin strips.
3. Make dressing by whisking all ingredients together. Pour over kale, toss to coat.
4. When the butternut squash has finished roasting, remove from oven and let cool for 5 to 10 minutes. Add to kale and mix. Toss with red onion, pomegranate seeds and chia seeds.
Butternut Squash Soup

Ingredients:
1 tbsp olive oil
1/4 onion, chopped
1 garlic clove, chopped
1 tbsp fresh ginger, grated
1/2 teaspoons turmeric
1/8 teaspoon cinnamon
1/8 teaspoon cardamom
1 carrot, peeled and chopped
1  cup chopped butternut squash
Coarse salt and pepper
Instructions:
Blend well and serve.
Most recent from Recipes