Gobble Up Healthy Thanksgiving Spa Recipes
Published: Wednesday, November 11th 2009
in Recipes
---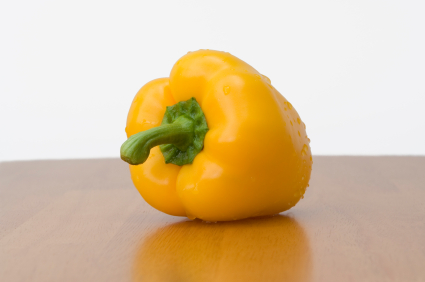 If your Thanksgiving holiday is typically a weekend-long eat-a-thon — leftovers and all — remember that your feast doesn't need to be all high calorie decadence.  We have some tried and true Thanksgiving recipes that are seasonably fall-fabulous and simply delish!  (Plus, seconds won't leave you in a food coma.)  The Roasted Yellow Pepper Soup recipe from the Mayflower Inn and Spa gets you started with warmth and wellness. A Potato and Celery Root Gratin recipe from Cavallo Point is a fab choice for a side-dish for guests not counting calories.  And to enhance turkey time, try the Whole Grain Cranberry Stuffing from Pennsylvania's Lodge at Woodloch. Lastly, for an unusual dessert, treat your body to a do-it-yourself at home spa treatment with Pumpkin Body Scrub from the Woodlands Spa at Nemacolin Woodlands Resort .
Roasted Yellow Pepper Soup from Mayflower Inn and Spa
4 garlic cloves, diced
6 yellow peppers, diced
3 shallots, diced
½ cup water
2½ cups Yellow Tomato Marinara Sauce (recipe below)
Salt and pepper to taste
2 tablespoons extra virgin olive oil
Yellow Tomato Marinara:
10 yellow tomatoes, peeled and de-seeded
1 red onion, small chopped
1 fennel bulb, small chopped
6 garlic cloves, chopped fine
2 celery stalks, chopped fine
2 teaspoons salt
2 tablespoons extra virgin olive oil
1. In a small rondoe, add olive oil, garlic, fennel, celery, red onion and sweat until translucent for 25 minutes on low heat
2. Add the tomatoes and cook for 15 more minutes
3. Add the salt and puree until smooth
4. Saute garlic and shallots in olive oil until translucent, add water and simmer for 5 minutes.
5. Add 2 cups of Yellow Tomato Marinara Sauce and then simmer for 5 minutes. Season with salt and pepper to taste then puree in the blender until smooth.
6. Garnish with diced yellow pepper, diced black olives, diced chives and olive oil.
Potato and Celery Root Gratin from Cavallo Point
Serves 6 to 8
3 pounds potatoes, preferably yellow fleshed varieties, peeled and sliced thin
½ cup Gruyere cheese, grated
Salt to taste
2 cups half-and-half
2 cups heavy cream
1. Layer potato slices in a low-sided baking dish, sprinkle 1/3 the grated cheese and salt over each layer.
2. Heat the cream and half-and-half with salt, pour over the potatoes until the potatoes are just covered.
3. Press down on the potatoes; they should be fully submerged when pressed. Bake at 375°F for 1 to 1.5 hours. The time will vary, depending on the dish you use, and how deep the potatoes are layered.
4. After the gratin has been cooking for 35 minutes, take a spatula and press the top layer of potatoes under the cream. This keeps the top layer from drying out. When done, the potatoes should be very soft, the top golden, and the liquid mostly gone. If the potatoes begin to brown too much before being cooked through, loosely cover the top with a bit of foil.
Whole Grain Cranberry Stuffing from Lodge at Woodloch
Serves about 8-10, Serving Size: 1 cup
8 cups of day old wheat bread, cubed
5 tablespoons extra virgin olive oil
1 teaspoon fresh thyme, chopped
Salt and Pepper to taste
½ cup onion, diced
2 stalks of celery, diced
1 cup dried cranberries
½ teaspoon fresh sage, chopped
1 teaspoon fresh orange zest
1 cup vegetable stock
1. In a large bowl coat the bread with 4 tablespoons of olive oil and add salt, freshly ground black pepper, and thyme. Pour out onto a baking sheet and bake at 350 degrees for 15 minutes. Set aside to cool.
2. In a large saute pan add the remaining olive oil and saute the onion and celery until soft.  Then add the cranberries, fresh sage, orange zest and vegetable stock and let simmer for 5 minutes.
3. Add bread mixture to vegetable mixture and mix together until bread has soaked up the liquid (add more stock if needed). Pour into a baking dish and bake (uncovered) at 350 degrees for about 20 minutes or until top is golden brown.
DIY Pumpkin Body Scrub from Nemacolin Woodlands Resort
After dinner have a little DIY spa fun for dessert!
1 small can pumpkin
2 cups of sea salt
½ cup of raw sugar
2 tablespoons of oil (sunflower or safflower)
¼ teaspoon vanilla extract
½ teaspoon nutmeg
½ teaspoon pumpkin spice or cinnamon
Mix all ingredients by hand until scrub has a firm consistency.  Apply pumpkin body scrub in tub or shower and rinse thoroughly.  Refrigerate product when not in use.  Discard any unused product after three weeks.