Kamalaya's Chilled Ginger & Melon Soup Recipe with Mint Granita
---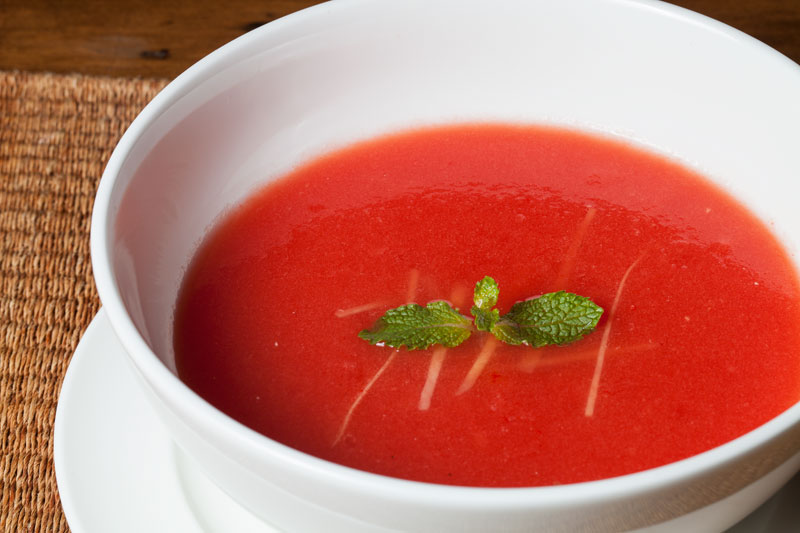 This unique melon soup recipe from wellness sanctuary Kamalaya Koh Samui in Koh Samui, Thailand, features a variety of flavor profiles, including sweetness from the fruit and the stevia, a dash of spice from the chili powder and ginger, and a refreshing touch of invigorating mint. We love the addition of the ginger and mint granite.
Impress guests with the complex flavors of this melon soup, or enjoy a bowl on your own and cool down in the heat of summer.
Chilled Ginger & Melon Soup with Mint Granita (Serves 1):
Ingredients:
1 cup cubed seedless watermelon
2/3 cup cubed cantaloupe melon
1 tsp ginger juice
Pinch of chili powder
1 ice cube
1 tbsp mint granite (recipe below)
4 strips of ginger shavings
For the Mint Granita (makes 1 ¼ cups):
1 cup vegetable stock
4 bunches of mint leaves (approx. 200 mint leaves)
1 tbsp lime juice
½ cup of stevia
Instructions:
Blend melon with the ice cube, ginger juice and chili powder on a high for about 30 seconds.
If the soups consistency is too thick, add little bit of vegetable stock, keep chilled.
Finely julienne the ginger shavings and set aside for garnish.
For the granite: Bring the vegetable stock to boil, turn off the heat, add the lime and mint and let the liquid sit for about 10 minutes then strain.
Next, put the stevia into a fine strainer and strain through with the vegetable stock mixture. Do this several times so the liquid gets a sweet note (check the flavor after each straining process); freeze.
Serve the soup in a small chilled bowl and garnish with 1 tablespoon of the granite, a nice mint leaf and the julienned ginger.
If you like this recipe, give these a try, too!
Rancho La Puerta's Watermelon Gazpacho Recipe
The Oaks at Ojai's Chilled Avocado Soup Recipe
Mii amo's Tomato Gazpacho Recipe
Stuff It & Grill It: Sanoviv's Stuffed Zucchini Recipe
Golden Door Recipe: Watercress, Strawberry and Goat Cheese Salad
Chilled Asparagus Salad from Sundara
Alaskan Halibut with Shoestring Vegetables
The Ranch at Live Oak Malibu Recipe: Beet Spring Salad
Watermelon & Tomato Salad with Feta & Fresh Basil
Most recent from Recipes