Kamalaya's Cucumber, Pineapple and Avocado Gazpacho Recipe
---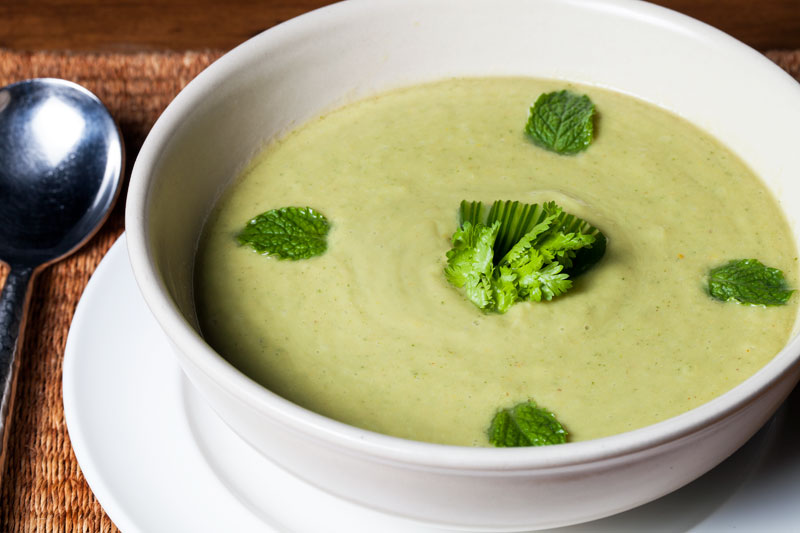 Fresh pineapple gives this gazpacho recipe from Kamalaya Koh Samui in Koh Samui, Thailand, in an interesting spin. Tart and sweet, pineapple is full of vitamin C and manganese, which means plenty of antioxidant protection and immune support for you!
Also, eating three or more servings of fruit per day may lower your risk of age-related macular degeneration, the primary cause of vision loss in older adults, by 36%, compared to persons who consume less than 1.5 servings of fruit daily, according to a study published in the Archives of Ophthalmology. This soup can help you meet that goal.
Chili powder and coriander combine to give this soup a little kick, and we love that this recipe includes fresh celery juice, too.
Give it a try, and let us know how you like it!
Cucumber Gazpacho (Serves 1):
⅔ cup cucumber peeled, seeded
½ cup fresh pineapple cubes
⅓ cup avocado cubes
2 tsp fresh celery juice
¼ cup vegetable stock
¼ cup pumpkin seed milk
½ tsp Thai herb paste
Pinch of chili powder
Pinch of coriander
10 mint leaves, divided
Black pepper to taste
1 ice cube
Sea salt
Coriander leaves (cilantro) for garnish (optional)
Instructions:
1.  Place cucumber, pineapple, avocado and all other ingredients, except for half of the mint and coriander leaves, into a blender. Blend for 30 seconds on medium.
2.  Check the seasoning and adjust as needed. Pour into a chilled soup bowl and garnish the soup with a cucumber fan and mint and coriander leaves (optional).
Most recent from Recipes