New Life Hiking Spa Recipe: Seafood Kabobs
---
It's officially grilling season and what better way to mix it up than with kabobs? We love how creative you can get with these foods on a stick, and they're a cinch to cook on the grill. Here's a simple and healthy recipe for seafood kabobs from Killington, Vermont's New Life Hiking Spa, which is renowned for being an affordable destination spa with some of the country's best hiking and fitness programming. Mix it up with your choice of veggies, like zucchini and mushrooms pictured here, and feel free to throw on some fruit too – we love grilled peaches!
Seafood Kabobs (Makes 6)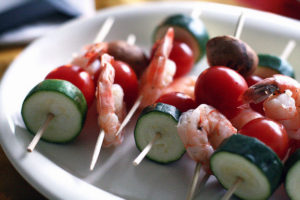 1 lb. fresh swordfish or salmon, cut into 1½-inch cubes
½ lb. scallops or shrimp
2 green peppers, cut into large chunks
6 large mushrooms
6 cherry tomatoes
1 small eggplant, cut into large chunks
2 Vidalia onions, cut into large chunks
Olive oil
Lemon juice
6 wooden kabob skewers
On skewers, arrange seafood and vegetables in any combination. Spray a little olive oil over each kabob, and sprinkle with lemon juice. Grill slowly about 15 minutes, turning every 3-4 minutes. Baking kabobs is also possible on a cookie sheet at 325˚ for 25-30 minutes.
Most recent from Recipes