Mii amo Recipe: Almond Ricotta Torte
---
With all of these sweet fall spa treatments available to feed your skin, we wanted to give you another way to enjoy the sweet flavors of fall – through your stomach! Eat your way to bliss with this delicious Almond Ricotta Torte recipe from Mii amo. While the recipe calls for fresh berries for garnish, we thought figs would be better-suited for an autumn version of this delectable dessert. As dark nights fall earlier with daylight savings in full effect, enjoy it with a hot cup of coffee or tea in front of the fire, and cozy up with this sweet treat.
Almond Ricotta Torte (Makes 8 servings)
3 tbsp sugar
2½ tbsp toasted ground almonds
2½ tbsp graham cracker crumbs
1½ tbsp all-purpose flour
1 cup nonfat ricotta cheese
1 large egg, separated
½ tsp vanilla extract
⅛ tsp almond extract
1 large egg white
Finely grated zest of ½ lemon (about 1 tsp)
Fresh berries for garnish*
Instructions
Preheat oven to 325°F. In a large bowl, stir together the sugar, almonds, graham cracker crumbs, and flour. Mix in the ricotta, egg yolk, vanilla extract, almond extract, and lemon zest.
In another large bowl, using a whisk or electric mixer, beat the 2 egg whites until medium peaks form. Fold about one fourth of the egg whites into the ricotta mixture to lighten it, then fold in the remaining whites.
Place eight 3- to 4-ounce molds on a baking sheet. Using a ⅓–cup measure, divide the mixture equally among the molds. Bake until a knife inserted into the center of the tortes comes out clean, about 20 minutes. Let cool completely.
If using silicone molds, un-mold onto individual dessert plates. For ramekins, un-mold into a plate or serve directly from the ramekin. The tortes can be made up to 1 day in advance and refrigerated, covered. Serve slightly chilled, garnished with fresh berries.*
*Or, if you love figs as much as we do, try topping this torte with some honey-glazed figs for a deliciously seasonal garnish!
SpaFinder's Honey Glazed Fig Suggestion:
For a simple and efficient fig garnish, place on a baking sheet about 10 washed and quartered figs, cut side up. Drizzle each piece with honey and pop them in the broiler for about 5-10 minutes – since all ovens differ, be sure to check on the figs every 3 minutes or so. Or, for a more complex fig garnish with a touch of citrus, you can toss the below ingredients together in a pan.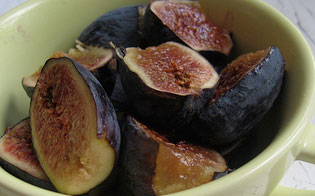 10 figs, washed and quartered
2 tbsp butter
4 tbsp honey
1 tbsp orange liquor or brandy (optional)
1 tbsp orange zest (optional)


Instructions:
Melt the butter in a non-stick pan over medium heat.
Add in the honey and liquor and combine. Add in the figs and gently coat/fold in.
Add in zest and move around until sauce has thickened and the flavors have combined.
Most recent from Recipes