Mii amo Spa in Sedona Recipe: Vegetarian Chili
---
With fall fast-approaching, hearty soups are just around the corner and chili is a great way to warm up as the weather cools down. While this recipe has a long list of ingredients, once everything is added to the pot, it requires little attention until serving time. For an extra seasonal touch, serve this chili in an edible "bowl" of acorn squash garnished with the classic chili fixings.

Vegetarian Chili (makes about 4 cups, to serve 4 to 6)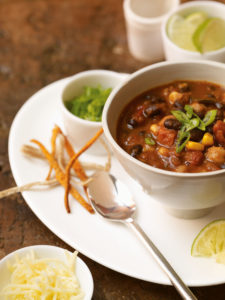 2 ½ cups vegetable stock, or as needed
2 tsp olive oil
1 small eggplant, chopped
¾ cup fresh or frozen corn kernels
1 small onion, chopped
1/3 cup chopped green bell pepper
3 tbsp chopped poblano chile pepper
2 tsp minced garlic
2 tsp tomato paste
1 ½ tbsp chopped fresh cilantro
½ tsp dried thyme
½ tsp dried oregano
1 cup drained canned diced tomatoes
¾ cup cooked or canned black beans, drained
¾ cup cooked or canned garbanzo beans, drained
½ tsp salt
½ tsp paprika
½ tsp chile powder
¼ tsp ground cumin
¼ tsp ground coriander
¼ tsp ground white pepper
4 tbsp reduced-fat shredded Cheddar or Monterey Jack Cheese
2 tbsp chopped green onion (scallion)
4 tsp low-fat or nonfat sour cream
2 small acorn squash (optional)


Prepare the vegetable stock ahead of time. Warm the oil in a large saucepan over medium heat. Add the eggplant, corn, onion, celery, and carrot and cook, stirring occasionally, until softened but not browned, about 5 minutes.
Stir in the bell pepper, poblano, and garlic and cook 3 minutes longer.
Stir in the tomato paste, cilantro, thyme, and oregano and cook for 2 minutes, then stir in the stock, tomatoes, black beans, garbanzo beans, salt, paprika, chile powder, cumin, coriander, and pepper.
Cook uncovered, stirring occasionally and adjusting the heat as needed to avoid the mixture from boiling vigorously, until the flavors have blended and the chili is thick, about 45 minutes. If the chili is too thick, stir in a bit more stock or water.
To serve, sprinkle evenly with the cheese and green onions, and top each serving with a small dollop of sour cream. Serve at once.

Another serving option:
In a large pot fitted with a steamer basket, bring about 2 inches of water to a boil over high heat. Cut 2 small acorn squash in half lengthwise. Scoop out and discard the seeds and fibers. Using tongs or a large spoon, place the squash halves on the steamer basket, cut-sides down. Cover the pot and reduce the heat to medium-low. Cook until squash is tender when pierced with the tip of a sharp knife, 15 to 20 minutes.

To serve, place 1 squash half, cut-side up, in each of the 4 shallow bowls. (If needed, cut a thin slice from the bottom of each squash half so it will lie flat.) Ladle chili into the cavity of each squash, letting some overflow into the bowl. Garnish as above and serve at once.

Per serving: 264 Calories, 2 g fat, 10 g protein, 12 g carbohydrates

Photo and recipe courtesy of "A Journey of Taste: Favorite Recipes from Mii Amo Spa in Sedona (Chronicle Books LLC).


Most recent from Recipes