Miraval Arizona Recipe: Sweet Corn, Barley, and Bean Soup
---
With all this wishy-washy weather, we think a good bowl of soup is in order to get grounded and feel nourished. This low-calorie, low-fat, hearty, and wholesome soup recipe from Miraval Arizona is as easy as it is delicious. We love sneaking barley in wherever we can – nutty, chewy, and pasta-like, this cereal grain is full of heart-healthy fiber, immune-boosting selenium, bone-strengthening manganese, and mood-enhancing/sleep-inducing tryptophan. Hit up your local farmers market for some in-season kale, onions, and carrots, and cook up a taste of Miraval right in your own cozy abode.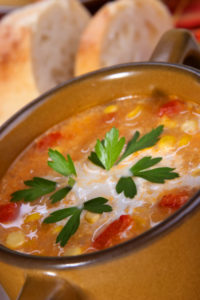 Sweet Corn, Barley, and Bean Soup (Serves 8 )
¼ tsp extra-virgin olive oil
1 cup chopped yellow onion
½ cup chopped celery
½ cup chopped carrot
1 tsp minced garlic
½ tsp dried marjoram
½ tsp dried basil
1 bay leaf
8 cups vegetable stock
½ cup toasted barley
1½ cups fresh corn
1½ cups cooked navy beans, drained & rinsed (one 15-oz. can)
1 cup julienned sorrel, spinach, kale, or Swiss chard
½ tsp freshly ground black pepper
½ tsp sea salt
Instructions:
1. Heat the olive oil in a medium pot over medium-high heat. Add the onion, celery, carrot, and garlic. Cook until the onion has softened, approximately 2 minutes.
2. Stir in the herbs and corn. Add the stock and barley and bring to a boil. Reduce heat and simmer until barley is softened, approximately 20-25 minutes.
3. Mix the beans and sorrel and season with salt and pepper. Heat to warm the beans, and serve.
Nutritional information per 1 cup serving: 190 calories; 8g protein; 1.5g total fat; 0g saturated fat; 40g carbohydrates; 9g dietary fiber; 0g cholesterol; 190mg sodium
Recipe Type: Soup
Most recent from Recipes