Nob Hill Spa Recipe: Spring Fava Bean Spread with White Truffle Oil, Shaved Pecorino and Crostini
---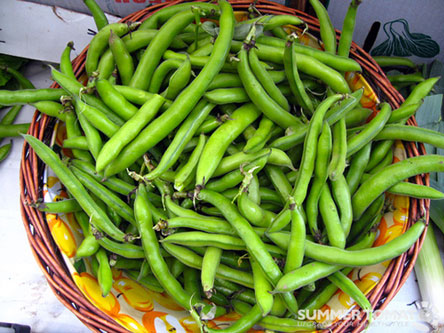 May is here and spring has sprung! Perfect for any springtime gathering or a light snack any day of the week, we love the flavors, colors and textures of this Spring Fava Bean Spread from the Huntington Hotel and Nob Hill Spa in San Francisco, California.

Fava beans are in season early spring, and while getting these beans out of their pods can be a little labor intensive, we think it's fun to shuck these outside while enjoying the spring breeze. Plus, it makes the dish that much more rewarding. If you're tight on time though, you can also buy shelled fava beans.
Compliments of Executive Chef Gloria Ciccarone-Nehls, this simple and flavorful spread can be enjoyed on crostini, as suggested, or combine all the ingredients as directed, but skip the puree process and you'll have a delicious fava bean salad!
Spring Fava Bean Spread with White Truffle Oil, Shaved Pecorino and Crostini (Serves 6)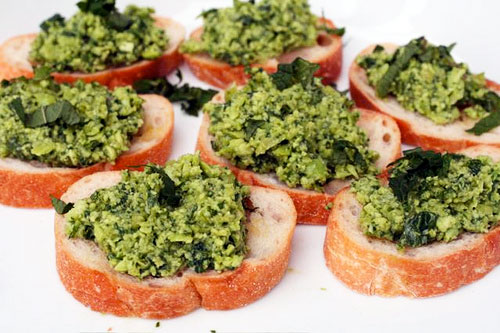 Ingredients:
8-10 oz. shelled, blanched and peeled fava beans
¼ cup extra virgin olive oil
1 tsp finely chopped garlic
1 tbsp chopped fresh mint leaves
1 tsp finely grated lemon zest
¾ tsp salt
Freshly ground black pepper to taste
2 tbsp white truffle oil
3-4 oz. of Pecorino cheese, thinly shaved
4-6 crostini per person

Instructions:
1.      Shuck the fava beans from their husk.
2.      Blanch them in rapidly boiling salted water for 45 seconds to 1 minute, depending upon their size. Immediately place in ice water to stop the cooking. Drain the fava beans.
3.      Peel off the opaque sheath, exposing the bright green and tender fava beans. Discard the sheath.
4.      Reserve 3 tbsp fava beans and roughly chop them. Set aside.
5.      In a small sauce pan, heat 1 tbsp of the oil over medium heat and sauté garlic until aromatic.
6.      Add the chopped mint and lemon zest; sauté briefly then transfer to a small bowl.
7.      Add fava beans, salt and pepper. Puree in food processor until smooth. Season to taste.
8.      Fold in the chopped fava beans for a more rustic look.
9.      To assemble, place spread on a serving platter in a mound or in a bowl. Create a cavity in the center of the dip with the back of a spoon and drizzle 1-2 tbsp truffle oil in the middle of the spread and around the plate. Sprinkle shaved Pecorino all around the plate and surround with crostini.

Recipe Type: Salad, Appetizer
Most recent from Recipes