The Oaks at Ojai Recipe: Quinoa Pilaf
---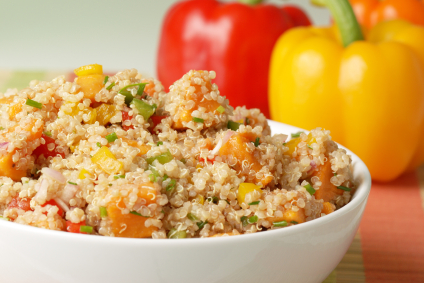 Savor the last days of summer with a light and healthy side dish like this Quinoa Pilaf from The Oaks at Ojai, a destination health spa in the Ojai Valley, 90 minutes north of Los Angeles. This recipe combines quinoa – a high protein grain – with scallions, garlic, mushrooms, and spinach for a superior side to any entrée.
Quinoa Pilaf (serves 6)
½ cup quinoa, rinsed
¾ cup water
¾ tsp. Bernard Jensen's broth powder (can substitute with fat-free chicken or vegetable stock)
½ tbs. olive oil
½ tbs. garlic, finely minced
½ cup scallion, diced small
2 cups mushroom, sliced ¼ inch thick
2 cups spinach leaves
Rinse quinoa in a fine strainer under running water for a full minute to remove bitter outer layer.
Mix water and broth powder and combine with quinoa in a pot. Simmer for 20 minutes, until grain is transparent and water is absorbed. (If you cannot find Bernard Jensen's broth powder, you can use fat-free chicken or vegetable stock in place of the powder and water mixture.)
Heat olive oil and garlic in a hot skillet and quickly stir-fry scallions, mushrooms and spinach just until spinach is wilted – it is recommended to undercook rather than overcook.
Fold vegetables into quinoa and serve.
NOTE: Build health by adding more whole grains to your life! You can use quinoa in place of rice in most pilaf-type recipes.
PER SERVING: 75 Calories; 2g Fat; 3g Protein; 12g Carbohydrates
Most recent from Recipes