The Oaks at Ojai Recipe: Roasted Red Bell Pepper Soup
---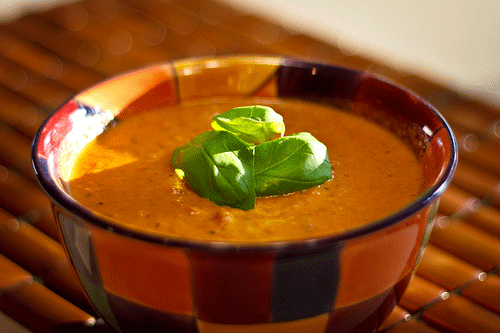 We love the idea of National Soup Swap Day, which is happening for the 5th year in a row tomorrow, January 22nd. The concept is to make a big pot of soup, freeze it, then invite your friends to do the same and swap! You end up going home with a wonderful mix of soup in the same amount you came with (and feeling good about sharing!).
Here's a soup recipe from The Oaks at Ojai in case you'd like to organize something like this on your own, or if you're just trying to stay warm over the chilly weekend. Full of the great roasted flavor of sweet red peppers, this recipe is simple, straightforward, and healthy. Try it hot in colder months, and chilled when it starts to warm up outside. It should freeze well, too – perfect for the soup swap!

Roasted Red Bell Pepper Soup Recipe:
Soup
Prep time: 30 min
Cook time: 1 hour
Total time: 1 hour 30 min
Servings: 16 1/2 cup servings)
Ingredients:
Chopped roasted red peppers (can be canned, rinsed well, and drained): 4-5 cups
garlic, minced: ¼ cup
onions, minced: 1 cup
olive oil: 2 tbsp
balsamic vinegar: 1 tbsp
water: 2 cups
fresh basil, chopped: ¼ cup
Instructions:
1. Roast the bell peppers over an open flame or under the broiler, until the skin is black. Set aside to cool.
2. Sauté the garlic and onion in the olive oil over medium heat until soft and lightly browned.
3. Peel and seed the peppers. Place peppers and all the other ingredients into a food processor or blender and process until smooth.
4. Garnish with addition basil leaves or with nonfat sour cream. Delicious heated or chilled.


Nutritional information per ½ cup serving:
Calories per serving: 35 calories
Fat per serving: 1.8g
0 cholesterol, 2.6mg sodium, 4.6g carbs, 1.3g dietary fiber, 1g protein.
Most recent from Recipes