The Oaks at Ojai's Chilled Avocado Soup Recipe
---
This chilled avocado soup recipe from the Oaks at Ojai in Ojai, California, is as easy as 1-2-3. Only three basic, easy-to-find ingredients are needed to create this satisfying, wholesome soup that's perfect for a hot summer's night.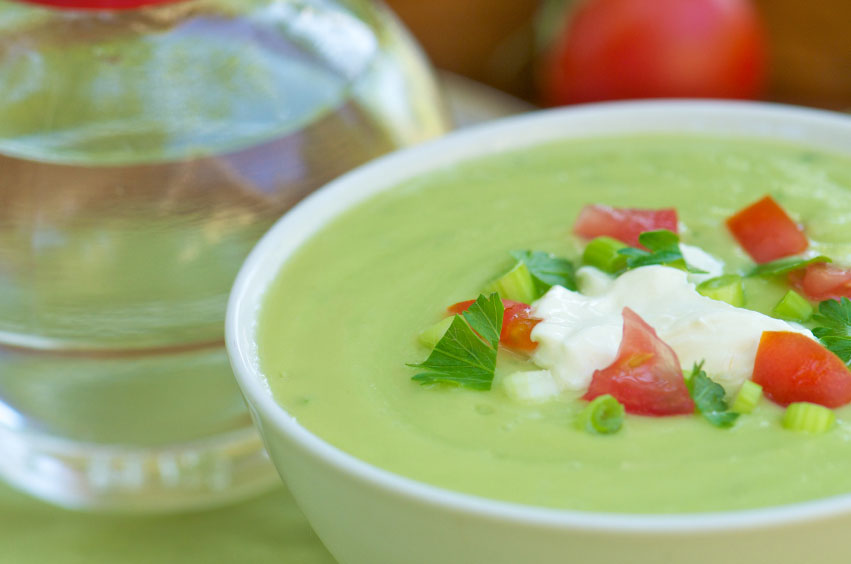 Avocados provide nearly 20 essential nutrients, including fiber, potassium, Vitamin E, B-vitamins and folic acid. They also act as a "nutrient booster" by enabling the body to absorb more fat-soluble nutrients, such as alpha- and beta-carotene and lutein, in foods that are eaten with the fruit, the California Avocado Commission says.
The American Heart Association (AHA) Dietary Guidelines recommend a diet that:
Has at least five servings of fruits and vegetables
Contains up to 30 percent of calories from fats (primarily unsaturated)
Is low in saturated fat, cholesterol, trans fats and sodium while being rich in potassium
Avocado soup can help you meet the AHA dietary guidelines because avocados have both monosaturated and polyunsaturated fat and contain potassium.
Chilled Avocado Soup (Serves 2)
Ingredients:

½ large ripe avocado
¾ cup nonfat chicken broth
1 tbsp sherry or orange juice concentrate
Instructions:
Slice avocado in half, leaving the pit. Store half with the pit in a plastic bag in the refrigerator for a salad the next day.
Peel the other half and cut into ½-inch pieces.
Put the chicken broth, avocado and ½ cup water in a blender and process until very smooth and creamy. Stir in the sherry (or orange juice).
Taste for seasoning and chill well.
Serving ideas: Serve to your most sophisticated guest in chilled bowls, or eat it all yourself with a fruit salad. Save a slice of avocado to float on top or add a dollop of yogurt or sour cream. Crunchy whole-grain crackers are a must.
Nutrition info per serving: 87 calories | 8 g fat | 5 g protein | 4 g carbohydrate | 1 g dietary fiber | 0 mg cholesterol | 192 mg sodium
If you like this recipe, give these a try, too!
Rancho La Puerta's Watermelon Gazpacho Recipe
Kamalaya's Chilled Ginger & Melon Soup Recipe with Mint Granita
Mii amo's Tomato Gazpacho Recipe
Stuff It & Grill It: Sanoviv's Stuffed Zucchini Recipe
Golden Door Recipe: Watercress, Strawberry and Goat Cheese Salad
Chilled Asparagus Salad from Sundara
Alaskan Halibut with Shoestring Vegetables
The Ranch at Live Oak Malibu Recipe: Beet Spring Salad
Watermelon & Tomato Salad with Feta & Fresh Basil
Most recent from Recipes