Pritikin Longevity Center & Spa Recipe: Salmon Balls
---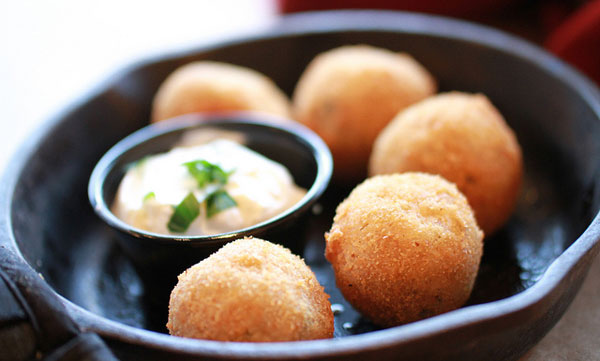 Using just a handful of ingredients, this recipe from Pritikin Longevity Center & Spa in Miami, Florida, is simple, quick and easy. Be sure to get wild salmon over farmed salmon – there are many environmental problems related to farming Atlantic salmon, which is what a majority of farmed salmon today is, and the Environmental Defense Fund has issued a health advisory for farmed salmon due to high levels of PCBs. Some efforts to address these issues by raising fish in inland tanks have been successful, the Monterey Bay Aquarium says.
Rich in omega-3s, salmon is chock-full of nutrients that are full of not only cardiovascular, but beauty benefits, too. Did you know that omega-3 fatty acids help keep the scalp healthy and support strong hair follicles?
Serve these delightful bite-sized morsels as an appetizer, blended with pasta, as a filler for sandwiches (particularly pita-style) or side dish for dinner, Pritikin's chef suggests.
Salmon Balls (Makes about 32 cocktail-size balls)
Ingredients:
1 pound salmon fillets
½ teaspoon finely chopped fresh garlic
1 shallot, finely chopped
1 teaspoon chopped fresh dill
¼ cup egg whites
¼ cup whole-wheat bread crumbs, low-sodium
Instructions:
Preheat oven to 375°F.
In a food processor, add salmon, garlic, shallot, dill and egg whites. Pulse until roughly chopped.
Scoop salmon mixture into a medium bowl. Using your hands, blend ingredients well.
Roll salmon mixture into cocktail-size balls. Then, roll balls in bread crumbs.
Place on nonstick baking sheet, and bake at 375 degrees for 6 minutes.
Nutrition information per serving: 23 calories | .9 g fat | .6 g carbohydrate | 3 g protein | 14 mg sodium