Rancho La Puerta's Watermelon Gazpacho Recipe
---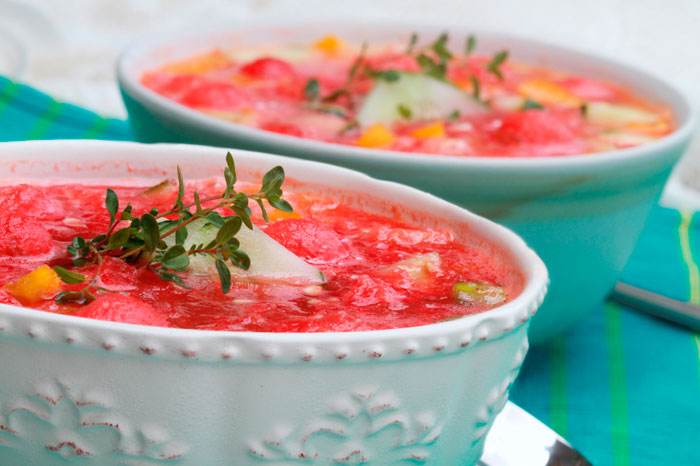 Watermelon works miracles on the hottest of summer days. Hydrating, cool and refreshingly sweet, this low-calorie fruit is high in vitamin C, vitamin A through beta carotene and lycopene, which has been shown to lower the risk of prostate cancer in men, plus reduce the risk of breast cancer.
This revitalizing recipe from Rancho La Puerta offers a new way to enjoy the thirst-quenching fruit. Give it a try this summer, and let us know how it turns out!
Watermelon Gazpacho (Serves 9 6-oz. servings)
Ingredients:
1 cup peeled, seeded cucumber, thinly sliced
¼ tsp sea salt
6 cups cubed, seeded watermelon
½ cup cranberry apple juice
½ cup finely diced red bell pepper
½ cup finely diced red onion
½ cup finely diced celery
¼ cup fresh parsley, minced
2 tbsp fresh lime juice
1 tbsp sherry vinegar
8 fresh mint leaves
Instructions:
Place cucumber slices in a small bowl. Mix with the salt. Set aside.
In a blender, briefly process watermelon chunks with cranberry apple juice until watermelon is just pureed, not frothy. Pour pureed watermelon mix into a sieve placed over a bowl. Discard pulp.
Stir in the bell pepper, onion, celery, parsley, lime juice and vinegar. Serve in chilled bowls. Garnish with cucumber slices and a mint leaf.
Nutrition information per serving: 56 calories | 12 g carbohydrate | 1.7 g protein | 0.7 g fat | 1 g fiber | 0 mg cholesterol | 76 mg sodium | 250 mg potassium
If you like this recipe, give these a try, too!
Mii amo's Tomato Gazpacho Recipe
Stuff It & Grill It: Sanoviv's Stuffed Zucchini Recipe
Golden Door Recipe: Watercress, Strawberry and Goat Cheese Salad
Chilled Asparagus Salad from Sundara
Alaskan Halibut with Shoestring Vegetables
The Ranch at Live Oak Malibu Recipe: Beet Spring Salad
Watermelon & Tomato Salad with Feta & Fresh Basil
Most recent from Recipes