Spa Recipes: From SpaFinder's 2009 Visionary Award winner, Dr. Andrew Weil
Published: Tuesday, October 13th 2009
in Recipes
---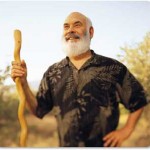 This week's spa recipes are from Dr. Andrew Weil, winner of this year's Visionary Award.  Dr. Weil, noted author and influential leader in the worlds of spa and wellness, has worked tirelessly to bridge the worlds of medicine and spa. As director of integrative health and healing at Miraval Arizona and more, he believes that mainstream medicine is often best suited for crisis intervention and low cost, low tech therapies should be considered for prevention.
Selected from his book "The Healthy Kitchen" with Rosie Daley, we've paired one traditional recipe, Andy's Vegetable Stock with a more unique small dish, Cilantro Walnut Pesto to give you a taste of what make him a visionary in healthy – not to mention delicious – living.
Andy's Vegetable Stock
From Andrew Weil, M.D., and Rosie Daley
Serving size: about 20 cups
•1 Tbsp extra virgin olive oil
•2 leeks, white and light green parts, washed well and chopped
•4 medium onions, chopped
•6 large carrots, peeled and chopped
•3 stalks celery, chopped
•1 small bunch parsley
•2 tsp dried marjoram leaves
•1/2 tsp dried thyme leaves
•1 1/2 gallons cold purified water
Directions:
Heat the olive oil over medium heat in a large pot. Add the vegetables and parsley and stir-fry until lightly browned. Add the herbs and water. Bring the mixture to a boil, reduce the heat, cover, and simmer for 1 hour.
Strain the stock through a fine sieve or a cheesecloth-lined colander. Press or squeeze the vegetables to extract their liquid. Discard the vegetables. Use the stock right away or freeze for later use.
Cilantro Walnut Pesto
By Andrew Weil, M.D., and Rosie Daley
Serving size: about 16 tablespoons
•1 cup walnut pieces
•2 cups cilantro leaves, stems removed
•1 jalapeno pepper, seeded and chopped
•1/2 tsp salt, or to taste
•1 Tbsp cider vinegar
•1/2 cup purified water, or as needed
Directions:
Grind the walnuts in a food processor until fine. Add the cilantro, pepper, salt, vinegar, and 2 to 3 tablespoons of water and blend. Blend in more water until the pesto is the consistency of a thick sauce. Taste and correct the seasoning, adding more salt if needed. Keep unused pesto refrigerated in a tightly covered container.
Both recipes are from "The Healthy Kitchen" by Andrew Weil, M.D., and Rosie Daley.
Read more about Dr. Andrew Weil, Founder and Director of the Arizona Center for Integrative Medicine; Director of Integrative Health and Healing at Miraval Arizona and recipient of the Readers' Choice 2009 Visionary Award
~~~~~~~~~~~~~~~~~~~~~~~~~~~~~~~~~~~~~~~~~~~~~~~~~~~~~~~~
Exclusive SpaFinder deal at Miraval Arizona – Save up to US$125 with the Essence of Miraval Package!  Learn more.
Booking Dates: Sep 15, 2009 – Dec 31, 2009
Stay Dates: Sep 15, 2009 – Dec 31, 2009
Package Includes
Accommodations
Three gourmet meals daily
Round-trip transportation to and from Tucson International Airport
Complete use of resort facilities
Unlimited access to all scheduled programs and classes
One spa service or round of golf per person, up to a US$125 value per night of stay (with US$399 package only)
Most recent from Recipes