Glorious Food: How to Make Your Own Salad Dressings, Plus 7 Recipes
---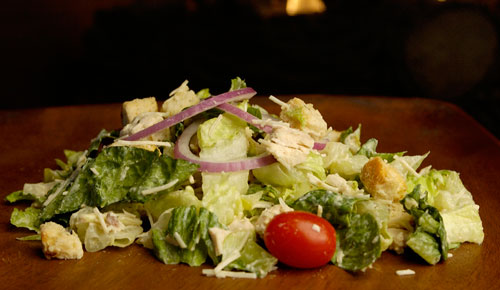 If you're watching your fat and calorie intake, but love your salad dressing, make your own at home to keep the fat and calories down, and to cut out any processed or hidden ingredients that may be found in store-bought dressing. We asked two spa chefs – one from Red Mountain in Ivins, Utah, and one from The Oaks at Ojai in Ojai, California – what their go-to tips are in making a healthy salad dressing from scratch at home, and for the recipes of a few popular dressings used at each of their spas.
Red Mountain's Executive Chef Dale Van Sky's Tips & Recipes: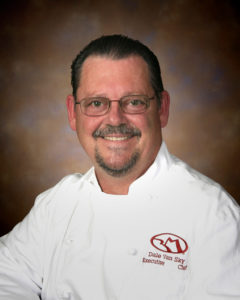 Tip 1: When making salad dressings use a good quality oil, like olive oil or canola oil.
Tip 2: If you enjoy creamy dressings, experiment with soft tofu to lower fat.
Tip 3: Use fresh herbs to enhance flavors and colors.
Tip 4: Always add salt at the end of the recipe. Start with ½ the salt in a recipe, taste, and add more if desired.
Herbed Apple Cider Dressing (Serves 5)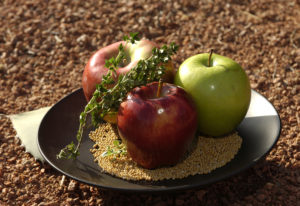 ¾ cup thickened vegetable stock*
¼ cup apple cider vinegar
2 tsp Dijon mustard
1 tbsp shallot
2 tbsp fresh herbs (basil, thyme and oregano mixed)
1 tbsp agave
2 tbsp olive oil
Instructions:
1. Purée all ingredients except olive oil.
2. Slowly add in olive oil to emulsify.
*To thicken vegetable stock, mix ¼ cup cold vegetable stock with 2 tbsp corn starch or arrowroot. Bring ½ cup vegetable stock to a boil, whisk in cold vegetable stock and cornstarch mixture. Chill until completely cooled and jelled.
11 calories per 2-tbsp serving
Eggless Caesar Dressing (Serves 20)
1½ tbsp garlic, minced
4½ tbsp lemon juice
3 filets anchovies
2½ tbsp dijon mustard
14 oz. soft tofu
1 tbsp Parmesan cheese
2 tsp Worcestershire sauce
Instructions:
1. Combine all ingredients in blender or food processor and purée.
2. Adjust flavors as needed.
3. Toss with crisp romaine leaves and freshly grated parmesan cheese.
17 calories per 2-tbsp serving
Thousand Island Salad Dressing
(Serves 5)
¼ cup soft tofu
2 tbsp plain soy milk
2 tbsp ketchup
¼ tsp onion powder
¼ tsp granulated garlic
2 tbsp dill pickle relish
Instructions:
1. Purée first 5 items until smooth.
2. Add dill pickle relish and mix thoroughly.
24 calories per 2-tbsp serving
The Oaks at Ojai Chef Christine Denney's Tips & Recipes: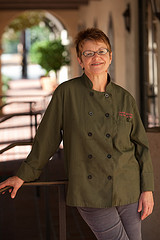 Tip 1: Incorporate nonfat high-protein dairy in place of sour cream or fattier or higher-calorie ingredients. For example, the peanut dressing below incorporates nonfat yogurt and peanut butter instead of higher-fat and higher-calorie coconut milk.
Tip 2: Skip the white salt altogether (The Oaks at Ojai does this not only in its salad dressings, but in all of its food preparations). The addition of fresh herbs and spices makes the salt unnecessary.
The Oaks Peanut Dressing ( Serves 8 )
2 tbsp smooth peanut butter, preferably natural
2 tsp fresh lemon juice
2 tsp low sodium soy sauce
¼ cup nonfat plain yogurt
2 tsp honey
1 tbsp rice vinegar
Pinch red pepper flakes (more, if you like a more piquant dressing!)
1 tsp finely minced garlic (optional)
Instructions:
1. Whisk all ingredients together except the yogurt.  Fold in the yogurt.
2. Serve with salad greens, shredded carrots and minced green onion.
3. If dressing seems too thick, it can be thinned with a little water. It can also be used with chicken or seafood.
35 calories per 1 tbsp-serving
Raspberry Vinaigrette (Serves 6)
½ cup water
1tbsp honey or agave
½ tbsp arrowroot or cornstarch
¼ cup raspberry vinegar
½ tsp stone ground mustard
½ cup fresh raspberries
Instructions:
1. Combine water and raspberries and blend.
2. Add the raspberry "water," honey and arrowroot in a small sauce pan and cook over low heat to thicken.
3. Whisk raspberry vinegar and mustard into dressing and mix well.  Cool or chill before using. Serve with a butter lettuce salad with fresh kiwis and raspberries.
25 calories per 1 tbsp-serving
The Oaks' Italian House Dressing (Makes 2 cups)
Combine all ingredients and mix by hand:
1½ cups tomato juice (low sodium is best!)
⅓ cup plus 2 tbsp red wine vinegar
2 minced garlic cloves (1 tbsp)
2 tsp dried oregano or 2 tbsp fresh oregano, minced
2 tsp dried basil or 2 tbsp fresh basil, minced
¼ tsp black pepper (or to taste!)
3 tbsp olive oil
3 tbsp grated Parmesan cheese
15 calories per 1-tbsp serving
Balsamic Vinagrette (Makes 2 cups)
Combine ingredients:
1⅓ cups virgin olive oil
⅔ cup balsamic vinegar
1 tsp chili pepper flakes
1 tbsp finely minced garlic
½ tsp salt (optional)
2 tbsp parsley, minced
2 tbsp fresh basil, chopped fine
28 calories in 1-tsp. serving
Most recent from Recipes