Salmon and Broccolini Recipe: De-Stress with Omega-3s, Folic Acid, and Vitamin B!
---
If you're like me, the act of cooking itself can help de-stress, but to unwind even more, cook up some cuisine rich in omega-3s and folic acid.
Directly related to brain cell function, a diet rich in omega-3s can improve brain function, and keep stress hormones under control, while also regulating adrenaline. What better way to get a healthy dose than with some delicious salmon?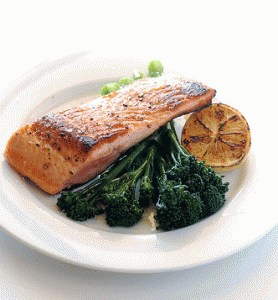 The Lodge and Spa at Cordillera shared its Grilled Pacific Salmon with Garlic Mashed Potatoes, Broccolini, and Lemon Chive Buerre-Blanc recipe, perfect for de-stressing after a rough day. Broccolini, which is a good source of folic acid, can significantly affect the stress levels by helping the body make healthy new cells. As a B vitamin, folic acid has the ability to stabilize your mood and reduce depression and anxiety.
The spa's chef, Ashton Fichtl, keeps the butter in the mashed potatoes and the lemon chive beurre-blanc low, and opts to lightly blanch the broccolini and steam the potatoes in order to retain all those stress-reducing nutrients. Chef Fichtl also recommends cooking the salmon to a medium/medium-rare to avoid cooking away all those sultry omega-3s.

Grilled Pacific Salmon with Garlic Mashed Potatoes, Broccolini, and Lemon Chive Beurre-Blanc Ingredients (Serves 4):
1 tbsp olive oil                                                                                            4 tsp unsalted butter
⅓ cup garlic cloves                                                                                   1 lemon, rind and pith removed
4 6-oz. Pacific salmon fillets                                                                   1 cup chardonnay
Salt and pepper                                                                                         5 peppercorns
1 lb broccolini, ends trimmed                                                                 1 bay leaf
3 lbs Yukon Gold Potatoes, peeled and cut into ¼-inch cubes        Finely sliced chives for garnish
¼ cup milk
Instructions:
1.      Add olive oil to a small skillet, and heat to medium-low. Toss in garlic cloves and cook for about 20 minutes, until soft and slightly off color, but not quite brown. Puree either by pushing through a sieve, food processor, or simply with fork (should make about ¼ cup). Set aside.
2.      Heat grill to 400°-450°F. Season each salmon fillet with a pinch of salt and pepper, and grill to preferred doneness.
3.      Lightly blanch the broccolini in a large pot of lightly salted boiling water for 2 minutes, until bright green and crisp-tender. Drain and refresh under cold water.
4.      Steam potatoes over 1-2 inches of boiling water until tender, 8-10 minutes. Mash, mixing in milk, roasted garlic, and 3 tsp unsalted butter.
5.      For the Lemon Chive Beurre-Blanc: Combine chardonnay with whole lemon in a small sauce pan (don't smash the lemon, or use the rind or the pith as it can make your reduction bitter). Boil down with peppercorns and bay leaf until it reaches almost a syrup-like consistency. Whisk in remaining 1 tsp butter. Add some finely sliced chives for fresh flavor. Strain and drizzle over salmon and broccolini.
6.      Optional: Garnish salmon with additional finely sliced chives.
Also, don't forget to sign up for Wellness Week™ news and alerts – The Lodge and Spa at Cordillera will be participating with $50 treatments or 50% off treatments!
Most recent from Recipes