Shane Diet & Fitness Resorts Recipe: Tofu & Vegetable Lasagna
---
As the weather cools down, our cravings for hearty foods go up. And, hearty doesn't have to mean fatty, which is why we thought this Tofu and Vegetable Lasagna recipe from Shane Diet & Fitness Resorts in Ellenville, New York, sounded delicious. Full of protein from tofu, fiber from spinach and flavors from basil, parsley and garlic, this healthy vegetarian lasagna is nice and simple, both in ingredients and in cooking. We love the way the taste of the fresh ingredients are highlighted, and combined with the presence of carbs from the lasagna noodles, this dish will keep you fueled and energized.
Tofu and Vegetable Lasagna (Serves 12)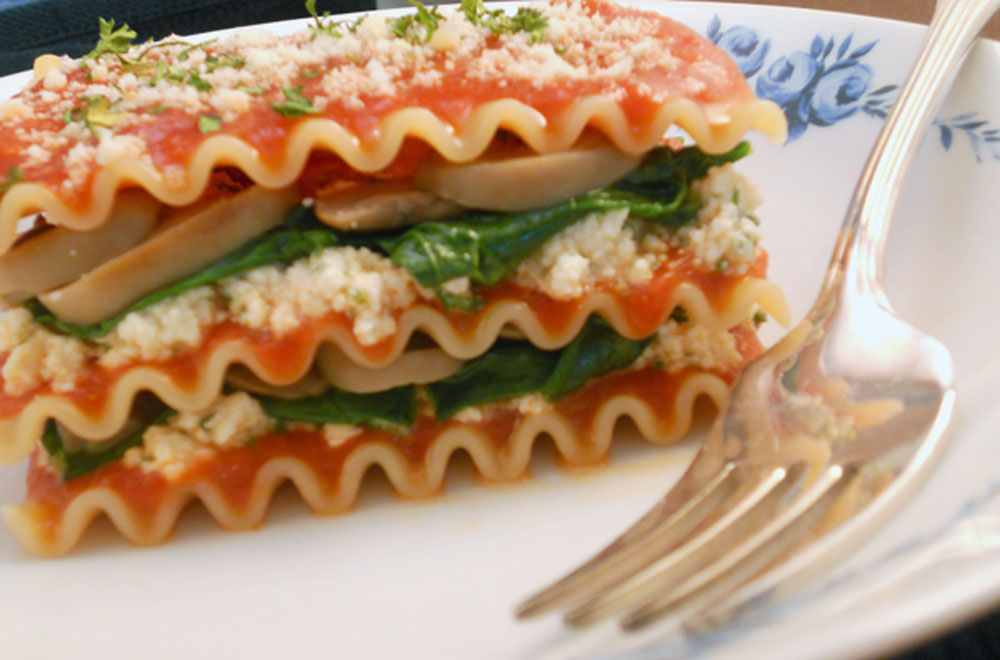 2 (14-ounce) packages of firm tofu (drained)
½ cup chopped fresh basil
⅓ cup chopped Italian parsley
2 cloves garlic
2 tbsp lemon juice
1 tsp salt
½ tsp sugar
1 tbsp olive oil
6 cups spinach, de-stemmed
2 cups mushrooms, sliced
5 cups marinara sauce
16 no-cook lasagna noodles (9 ounces)
Instructions:
Preheat the oven to 350°F.
Combine tofu, basil, parsley, garlic, lemon juice, salt, and sugar in food processor. Blend until smooth and similar to ricotta cheese texture.
Heat olive oil over medium heat in a skillet. Sauté mushrooms for 3-5 minutes, or until tender. Remove the mushrooms and set aside. Add the spinach in batches until it is all wilted.
Coat pan with cooking spray. Spread 3 tbsp marinara sauce over bottom of a prepared baking dish. Cover with a layer of lasagna noodles (overlapping slightly), then half of the tofu mixture, half of spinach and mushrooms, and ½ cup of marinara. Repeat twice for a total of three layers. Finish with another layer of noodles and remaining sauce.
Cover with foil. Bake for 1 hour. Let rest for 10 minutes before serving.
Nutrition information per serving: 216 calories, 7.2 g total fat, 28.8 g total carbohydrates, 3.9 g dietary fiber, 10.7 g protein
About Shane Diet & Fitness Resorts:
Shane Diet Resorts offers weight-loss programs dedicated to promoting a sustainable, healthful diet and a continuing fit lifestyle. Programs are tailored to adults 18-plus and offer guests the opportunity to lose weight, focus on making lasting healthy lifestyle changes, and have a fun vacation to boot. Shane Diet Resorts' menu, created by registered dieticians and food service experts, emphasizes healthful meals that are low in calories and portion-controlled. Vegetarian options are available at each meal, and specific diets, including kosher, can be accommodated upon request.
Most recent from Recipes